New Zealand World Cup hopes in tatters after 5-1 thumping by Mexico
November 14, 2013
via
The Age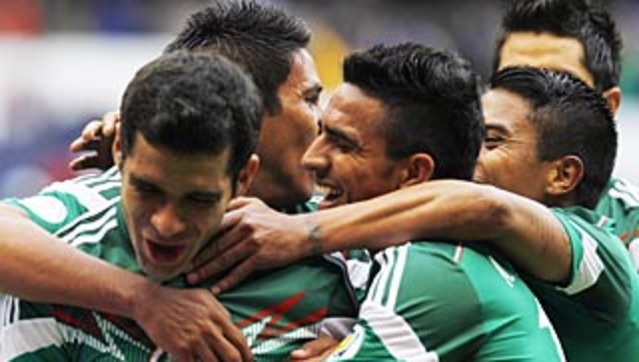 MEXICO CITY: Soon after Oribe Peralta tucked away his second goal, 105,000 Mexicans started to sing.
The traditional "Goodbye" song, Cielito Lindo, was directed at the All Whites, who, dressed in black, stood with hands on hips as they contemplated the death of their World Cup dreams.
The 5-1 loss to the world's No 24 side, at an energy-sapping 2240-metre altitude at the Azteca Stadium, was not entirely unexpected.
But the Mexican goals came by methods where the All Whites were supposed to be strong – aerial balls into the box and counter-attack.
The All Whites sat deep the whole game and it could have been uglier had the Mexicans not made a nervy start and Glen Moss not pulled off some top saves.
Ricki Herbert made his All Whites debut as a player against Mexico in 1980 and, 33 years on, his coaching tenure looks set to end against the Mexicans after the second leg in Wellington on Wednesday.
Chris James hooked in an 85th-minute consolation goal that he will never forget at one of world football's top venues.
But this was Mexico's day.
The fans chanted "We're going to the World Cup", and FIFA will be thrilled, for the Mexicans are regarded as the best and most colourful travelling fans in world football.
Mexican coach Miguel Herrera had asked for at least 3-0, and that's what his players gave him.
Mexico's wingbacks, Paul Aguilar and Miguel Layun, had a field day down the flanks, and the misery got even worse for the All Whites with three players, Chris Wood, Ivan Vicelich and Leo Bertos â₠suspended for the Wellington leg.
For half an hour it looked as though the All Whites' negative game plan might pay off.
Mexico were clearly nervous, firing shots wide as the All Whites hung on.
But Aguilar tapped into an empty net in the 32nd minute after Moss punched a cross and the Kiwi defence was unable to clear the danger.
The pressure valve had been released and it was one-way traffic from then on.
Raul Jimenez nodded in a free header at the back post for 2-0, and Peralta scored his first after a counter-attack down the left by Layun.
Peralta grabbed his second, and then Mexico captain Rafa Marquez scored a popular fifth as things started getting decidedly ugly for the world's 87th-ranked side.
Herbert did his best to try to spark something, throwing substitutes James, Marco Rojas and Rory Fallon on early in the second half, but the horse had well and truly bolted.
Sadly, the 2009 party at Westpac Stadium will not be repeated.