Daly Cherry-Evans content to bide his time
November 14, 2013
via
Sydney Morning Herald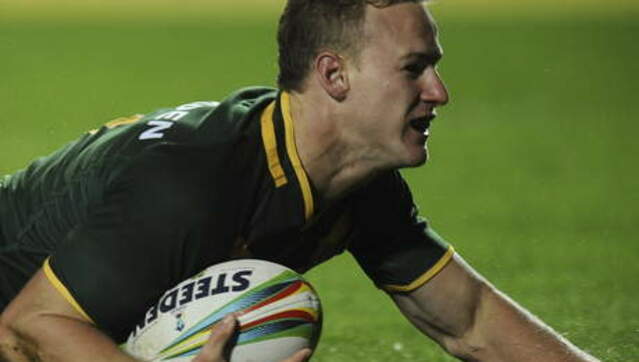 After fighting off Robbie Farah for the utility bench spot, Daly Cherry-Evans still believes he has a long way to go before usurping incumbent halves Johnathan Thurston and Cooper Cronk.
While coach Tim Sheens conceded Cherry-Evans had the experienced duo "looking over their shoulders", the Manly halfback was comfortable with playing second fiddle for now.
"That's a nice compliment from Tim," Cherry-Evans said. "I guess I have to keep trying to do my best for the side. Hopefully I can continue to reward him if I am in the squad come Saturday.
"I still see myself as the rookie behind those two. I need to make sure when I am in the side or when I am getting a game that I ask them for advice and try and benefit myself and getting them to go back on their past experiences and lend a hand."
Cherry-Evans, who has scored a try in each of his three Tests, secured his place in the 20-man squad with a man-of-the-match performance in Australia's last start win against Ireland. While Farah had played in all three pool games, Cherry-Evans will reprise the bench role he filled during two games for Queensland this year, where he spent some time at lock.
"I dare say I'll be covering hooker, halves and possibly in the middle," Cherry-Evans said. "I think I'll be covering all bases in case anything does happen to anyone. I don't think I'll be pigeonholed as any one [position] in particular.
"It's one step closer to hopefully being named this weekend. I'm not counting my chickens too early. I'm still thereabouts in Tim's mind, hopefully come Saturday I'll be in the 17."
Sheens is yet to settle on a final squad with Brent Tate, Jarryd Hayne and Greg Inglis vying for the centre positions. Despite struggling with a leg injury Paul Gallen trained with the squad on Wednesday in Manchester.
"I'll be preparing as if I'm playing," Cherry-Evans said. "Anyone who is named in this squad will have to do the same thing. We can't go into a game with two days preparation so everyone named will be preparing as if they are playing. Unfortunately some of us are going to miss out."
The Kangaroos play a quarter-final against the United States on Saturday (Sunday, 12am, AEDT) with the winner taking on either Samoa or Fiji for a place in the final. "No doubt they've been the surprise packets," Cherry-Evans said. "We aren't taking them any lighter than an England or Kiwi side. We will be on our game and playing the best football we can."