Stephen Larkham puts Brumbies ahead of Wallabies
November 14, 2013
via
The Age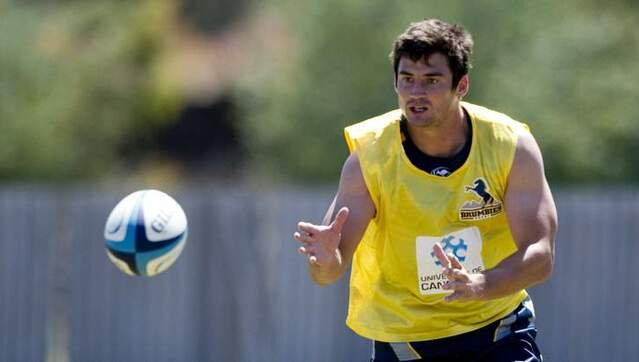 The ACT Brumbies will put Super Rugby championship ambitions ahead of the Wallabies' positional plans as they aim to win the grand final next year.
Brumbies head coach Stephen Larkham says his back-line selections won't be influenced by where his players have been picked to play in the Test side on the end-of-season tour of Europe.
And the newest Brumbies recruit, Lionel Cronje, hopes he can force his way into the playmaker rotation and join Matt Toomua and Christian Lealiifano.
Toomua is the Brumbies' first-choice flyhalf, but has been picked to play at inside-centre for the past three Wallabies Tests and for the clash with Irelandat the weekend.
But former champion Wallabies No.10 Larkham says the Brumbies won't change their selection mindset and back-line formation to suit the Test team.
''At Super Rugby it's about what's best for our team, not necessarily what the Wallabies want or long-term planning,'' Larkham said.
''I know both [Toomua and Lealiifano] want to play at No.10 … Toomua will be developing whether he's playing at No.10 or No.12.
''At this stage he fits in at No.10 for us. Slotting back into that role will be seamless for him. But we've had some good local guys training and they'll have some competition when they get back.''
Toomua and Lealiifano won't return to pre-season training until January. Lealiifano's comeback will be delayed even further by scheduled ankle surgery which could keep him out of action for the first two rounds of the Super Rugby season in February.
His absence will open the door for forgotten Wallaby Pat McCabe to make a return to the starting team after he broke his neck twice in less than a year.
But South African Cronje, who arrived in Canberra on Saturday, hopes he can impress Larkham enough to win selection. Cronje has played 11 Super Rugby at home and is a former South Africa under-20s representative.
''My preferred position is flyhalf, so I'd like to get a good run in there,'' Cronje said.
''[Toomua and Lealiifano] are great rugby players and I'm here to learn and take as much as I can from Stephen and the coaches.
''[Larkham] has been an icon for me through my youth. I was kind of in a lull in South Africa, I wasn't getting opportunities, so I was excited for a new chance to come to the Brumbies to regain a passion for the game.''
Cronje's career has been interrupted by knee and pectoral injuries.
However, he helped the Johannesburg Lions earn promotion back into Super Rugby for next season. Former Brumbies coach Jake White lured him to Canberra.