McKenzie happy to silence critics with Ireland win
November 17, 2013
via
The Age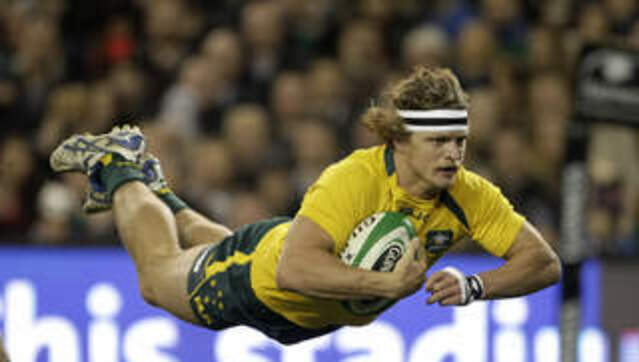 Ewen McKenzie was not hiding his satisfaction in Dublin on Saturday night. The Wallabies had for the first time under his watch matched attacking precision with desperate physicality.
They had arrived at Aviva Stadium armed with an impressive degree of mental ''up-for-it''. The result was a convincing, four-try victory against an Ireland that closely resembled the Wallabies in their early hit-outs with their new coach.
Joe Schmidt's lads made it easy for them in parts but, at a crucial mid-point along a long five-Test road, the Wallabies avoided the northern hemisphere potholes and kept driving straight.
It was an important win for the team's psychology as well as for McKenzie's win ratio. ''I think there's people out there you never please, someone will say 'You haven't beaten the All Blacks'. We can't do that until August next year,'' he said.
''In the meantime, we can beat whoever is in front of us. The thing that is incredible to me is that we're playing these games in their backyards, and there's got to be some credibility in that somewhere.
''Getting over the tryline was an issue for the team in the past; hopefully the fans are getting excited about the fact that if they turn on the TV they might see some interesting stuff.''
The most interesting of all the stuff will not be Quade Cooper's try off set-piece, or Scott Fardy's fend-and-flick pass effort to set up Michael Hooper.
The fans haven't seen a Wallabies pack grow a leg like that in far too long.
The gains were small at first - the first-half maul in which the Wallabies were driven back like autumn leaves rang false alarm bells - but they snowballed.
Soon the Wallabies pack was back-slapping like a gaggle of red-mist Springboks.
Forwards coach Andrew Blades might have been the happiest man in the stadium.
''We nearly got a pushover try; people weren't expecting us to do that,'' McKenzie said. ''Everyone lambasts our scrum - I've been reading about it all week … It's just a matter of opinion, people get hysterical.
''When we put the ball in the scrum and it comes out and we play from it, that's what we want. Three months ago you were getting one ball out of the scrum per game; now we're getting six or seven a game.
''We're getting the ball to play, it's giving a platform, our backs are getting a run, that's what we want.''
McKenzie revealed Hooper's pushover try had been in the works for a while. It is a pleasingly bullish trait in the Wallabies coach that he backed his side to beat Ireland at their own position of strength.
Practical questions may preoccupy the Wallabies this week in Scotland. Tevita Kuridrani's red card for a dangerous tackle on Ireland No.6 Peter O'Mahony may force a reshuffle in the back line.
But if an apparent stinger on the shoulder of Adam Ashley-Cooper - the man most likely to step into the mid-field - turns out to be more serious, the Wallabies' depth will be tested.
''We've got other guys who can play there. It will be disappointing [to lose Kuridrani] but if that's what it is, that's what it is,'' he said.
The result and the performance of the Wallabies bench gives McKenzie wriggle room against Scotland.
In the meantime, the Wallabies will keep ''climbing the mountain''. What looked and felt much like an assault on Everest three months ago might feel more surmountable in Edinburgh on Monday morning.
Australia 32 (Hooper 2, Cooper, Cummins tries, Cooper 3 cons 2 pens) d Ireland 15 (Sexton 4, IMadigan pens) at Aviva Stadium.