Jack Grimes relaxed about Demons leadership conundrum
November 18, 2013
via
Sydney Morning Herald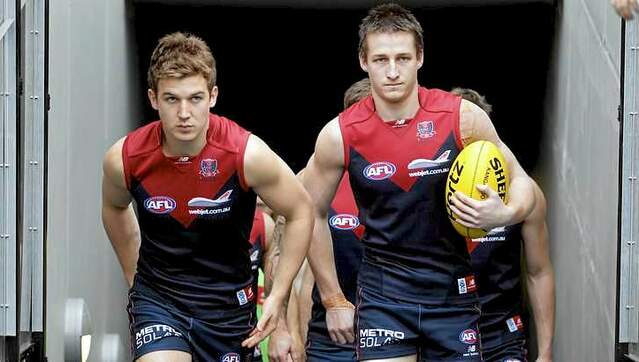 His Melbourne co-captain of the past two years has already stood down, and it'll be three months before he finds out whether he'll still be skipper, but Jack Grimes says he's comfortable whatever the final decision on the Demons' on-field leadership for next year.
The Melbourne backman is keen to continue in the role, after Jack Trengove recently resigned from the position, but said he believed whoever ended up with the job under new coach Paul Roos would be the right choice, and one he would support fully.
"I'm keen, I'm putting my hand up, but I think Roosy has had enough experience and has enough runs on the board to know what's best for the club and what's best for the team," Grimes said on Monday as the full Melbourne list trained for the first time as a group under Roos.
"Obviously, he and the other coaches have got to get a feel for what the group dynamics are like and how the group ticks, so I'm just going to go about my business the way I normally do and keep working hard. But I'm not stressing about the whole situation, because I'm very comfortable leaving the decision in Roosy's hands.
"I'd be 100 per cent supportive [of not being captain] if that's what they thought was the best thing for the club. At the moment, I honestly don't have an opinion on it, because having someone of [Roos'] calibre come in, I know the right decision will be made."
Grimes is an obvious contender for the role, which will come from a leadership group to be elected by the Melbourne players. But there are other candidates such as tough best and fairest-winning midfielder Nathan Jones, along with James Frawley and Jeremy Howe.
Roos said on Monday that while the process to appoint a new captain would start immediately, the final decision may not be made until February, close to the start of practice match campaign.
"We'll start our process probably tomorrow in terms of what we want to do with [development group] leading teams, then we're going to head on our camp, and just try to set standards, so there's no urgency with that at all," Roos said.
"I'd suspect it's probably going to go into February of next year, and give players a chance to set their standards and then vote on a leadership group. There's a real process to go through, and that will be explained to them tomorrow."
Roos is similarly unconcerned about the timing of an appointment of a senior assistant coach to eventually take over the reins from him, after the club initially sounded out Sydney assistant Stuart Dew.
He said the situation could open the door for one of his current assistants to take the job. "There's a chance over the next 12 months someone could definitely bob up, as with John Longmire in Sydney. Certainly, that's a possibility, there's no question about that. And then we can reassess it at the end of next year."
Grimes, who will next year play his seventh season with the Demons, said he was genuinely excited about a new era for Melbourne, including the addition of a raft of senior-experienced players including midfield group Daniel Cross, Bernie Vince, Dom Tyson and Viv Michie.
"It just feels like a new club," he said. "To look across the room and see someone like Daniel Cross there and Bernie Vince and these sorts of guys, senior players who have had long careers and seen success themselves, is great. They can provide so much support for so many guys. I can't wait to see how they train, and they'll go out there and set standards for the rest of the group."
Roos said he was looking forward to the return of key forward Mitch Clark to the training track, after the former Brisbane Lion was restricted to just 15 games in his two years with the clubs because of a serious foot injury.
"To see him on day one, when he trotted out with his boots on, I didn't know what he was doing, I thought he looked a bit lost," Roos laughed.
"It's good to see him involved in the skills session. I know he gives everyone a boost around the club. He's such a dominant figure, both with his size and personality. Probably our biggest challenge now is to pull him back a bit and make sure he doesn't do too much. But certainly to have him out there and with the senior players back gives everyone a lift."