Billy Slater's Rugby League World Cup could be finished by knee injury
November 17, 2013
via
The Age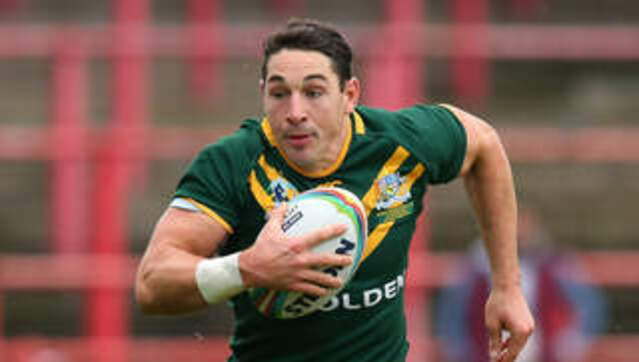 The same knee injury that kept Billy Slater sidelined for six weeks is expected to end his World Cup campaign after he limped from the field during Australia's 62-0 win against the US.
Slater missed last year's final state of origin game and six club games after straining his posterior cruciate ligament. The left knee was too swollen for results to be conclusive when the full-back was taken for scans following Australia's win.
But Slater feared the worst when he was taken from the field early in the second half.
''It's a bit sore,'' he said. ''There's not much I can do about it. I'll get scans and we'll know more from there.
''It's the leg that I did in the second state of origin last year. It seems like the same injury. I suppose that's a good thing because the PCL isn't functional anyways.
''I suppose the only concern is the cartilage now and we'll know more from the scans. It's a classic PCL injury. There's a lot of swelling in the knee. Hopefully we can get some swelling out.''
It was a grade three PCL that sidelined Slater for an extended period last year. Slater's PCL is non-functioning and players can play on without it but he remained in discomfort after the match.
''I knew straight away what it felt like,'' he said. ''Hopefully the scans came up good.
''I actually have [a PCL] but it's torn and the knee was loose anyway. It's hard for me to put a timeframe on it. I'm pretty sure if the scans come back bad it'll be the tournament over for me.''
The injury capped a turbulent week for Slater who was involved in a nightclub scuffle in Manchester. Slater said he had ''tried to put all that behind me''.
His likely replacement, Greg Inglis, scored two tries in his best performance of the tournament. Inglis roamed around the field with the ball more against the Tomahawks as he looked to get more involved.
Australia 62 (Hayne 4, Morris 4, Inglis 2, Smith, Cronk tries, Thurston 7 goals) d US 0, at Glyndwr University Racecourse Ground.