Live: Brisbane Roar v Western Sydney Wanderers
November 22, 2013
via
Sydney Morning Herald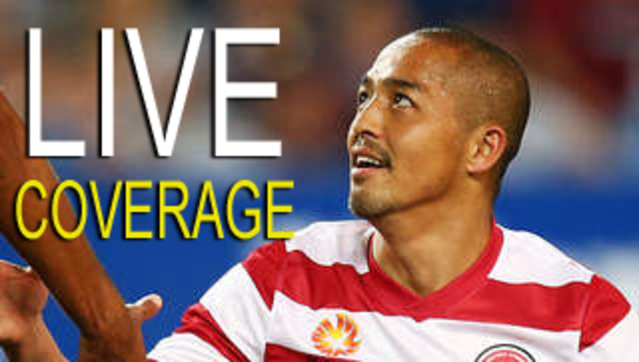 Live coverage as Western Sydney Wanderers visit Brisbane Roar.
SEB HASSETT'S PREVIEW
Suncorp Stadium, Brisbane, Friday,
8pm (AEDT)
TV: Live on Fox Sports 1, SBS2
Radio: 702 ABC and SBS
Twitter: #BRIvWSW
Odds: Roar $2.30, draw $3.30, Wanderers $3.10 (Sportsbet)
THREE TO WATCH
1. Mark Bridge (Wanderers)
Scored his first goal of the season against Melbourne Victory last week, and it was at this ground last year he scored the Wanderer's first goal in their first win. Can he repeat the dose?
2. Corey Brown (Roar)
The dashing left-back is a vastly different player to his father Rod, who is remembered by most for scoring in the Brisbane Strikers' 1997 grand final triumph. He has filled in for Shane Stefanutto in recent weeks and been a more than capable replacement.
3. Labinot Haliti (Wanderers)
Haliti might just be the A-League's most effective bench player. Every time he comes on, something happens. He brings a burst of energy and intent, and loves running at his opponents.
THE KEY MATCH-UP
Thomas Broich (Roar) v Jerome Polenz (Wanderers)
The A-League's most-talked-about Germans go head-to-head in what looms as a cracking battle. Polenz is a top-line defender but Broich will test him to the limit. Polenz needs to be wary of his mistimed tackles — the next rash challenge will surely see him sent off.
G'day, and welcome to live coverage from Suncorp Stadium, where it is a balmy 24 degrees, with no sign of the storms coming. Brisbane have fielded their strongest lineup of the season so far, and will be looking to knock the Wanderers off their perch - and the top of the ladder. We're all set for kick-off, which is moments away.
WHAT A START! Besart Berisha picks up the ball just inside the Wanderers half, drives at Spiranovic, who gets all tangled up, and unleashes a screamer which goes a couple of feet wide. That's one hungry Albanian.
It's all Brisbane here in the first five minutes. Great work from broich finds Henrique on the edge of the box, and his cross-shot blasts into the body of a red and white shirt. Big shouts for a pen, but the ref quite rightly waves play on.
Never conceded a goal in the first 20 minutes, let's hope we can continue that! #BRIvWSW

— Rebecca Sutherland (@Beccccc_92) November 22, 2013
GOAL Guess who? It's Besart Berisha again! He drives at the Wanderers, twists inside and out, leaves Topor-Stanley for dead, shoots in the box, reacts to the ricochet and athletically smashes in the rebound. Wow. Roar 1 Wanderers 0
That's better from the Wanderers, as Shinji Ono tries to make things happen in the middle with the good old pass and move. Ivan Franjic has had enough of it though, and steams in to make the tackle as soon as they spread the ball wide. Not having a bad week, that lad.
So, 11 minutes gone here in Brisbane, and the Roar are decidedly on top. The Wanderers are not used to getting hit that quickly, and need to get a footing in this game. Jack Hingert makes a good run down the left, but his cross is easily cleared by Topor-Stanley. Roar 1 Wanderers 0
Adam D'Apuzzo tries to make inroads down the left flank, and the RBB respond accordingly. Great crowd noise here from both sets of fans - and a few of the Barmy Army by all reports.
Waiting to see how the Wanderers go tonight. They are usually quite solid and can ride out a game, but they are playing catch up. #BRIvWSW

— Igusti (@adnyana179) November 22, 2013
Great opportunity for Western Sydney there. Poljak finds Ono with a great no-look pass on the fringe of the box, but Ono picks the wrong option for once, plays the ball wide, and the dinked cross is straight to Michael Theo on the near post. Shinji needed to have a dig there, it was set up nicely on the back of good work from Cole and Poljak. Good signs though for the visitors, who are still under the pump, but starting to get a foothold.
Taxi for Topor-Stanley. Berisha all class. #BRIvWSW

— Huw Bonello (@Huw_Bonello) November 22, 2013
As quite rightly pointed out on Twitter below, that was the first goal the Wanderers have ever conceded in the first 20 minutes of a game. Some stat. Or it was. The Wanderers look absolutely shellshocked. Berisha is on another level tonight.
Is Berisha the Suarez of the A-league? #BRIvWSW

— John (@jenweya) November 22, 2013
Oh wow that was another awesome goal! Brisbane not letting WSW breathe #BRIvWSW

— Jacqui Reed (@JacquiReedAFL) November 22, 2013
That was timed at 19 minutes, so the Wanderers concede twice in their previously watertight period. It is only the second time they have conceded twice in the first 45! The odds on the Roar for the title are plummetting.
Excellent reaction here from the Wanderers, who come close twice in quick sucession through Cole and then Santalab, who can't control a great ball in from Aaron Mooy with the goal begging. Roar 2 Wanderers 0
Another close one from Berisha, who goes inside to outside, with Topor-Stanley backing off again. Covic is flat-footed, but it goes wide of the left hand post. Close again. They have got to stop backing off Berisha. He is dropping off and coming from deep, and the Wanderers defence are in so much trouble from a standing start. Popovic needs to reshuffle, put someone on him tight.
#BRIvWSW a lot of talk about WSW character, grinding out 1-0 results is something but tuning a 2-0 deficit is another

— Michael Henderson (@toaster_oven_FC) November 22, 2013