November 25, 2013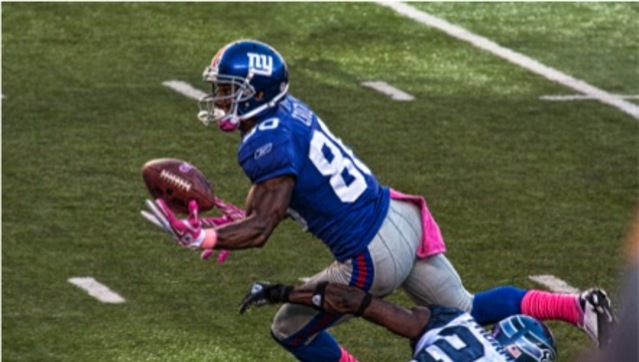 Perfíl NFL is a weekly column that brings you the best Latino players in the NFL to root for, so break out the vuvuzelas and get ready to celebrate every touchdown they make!
Victor Cruz holds a special place in the hearts of Latino fans because of his unique endzone dance. For maybe the first time in NFL history, every time this wide receiver makes a touchdown (which is plenty), se pone salsero. A native of Paterson, New Jersey, Victor Cruz lets his Puerto Rican side shine as a tribute to his beloved abuela.
Although he never started a college game until his junior year at the University of Massachusetts, he ranks fourth on the all time UMass receptions list with 131 catches. (He also scored 113 touchdowns.) He's still no stranger to records – in his second season playing with the Giants, Cruz tied the NFL record for longest touchdown reception at 99 yards, as well as breaking the record for most receiving yard for a Giants player in a single season, with 1,536 yards.
Cruz is optimistic about the Giants' chances for the championship this season, telling NBCSN that he believes it will take nine games to win the NFC East. With the Super Bowl being held in the Meadowlands in February, we can't pretend it wouldn't be fun to see Cruz do his trademark salsa at home.