Marwan Koukash keeps reaching for the stars from Sydney to Salford
December 07, 2013
via
The Age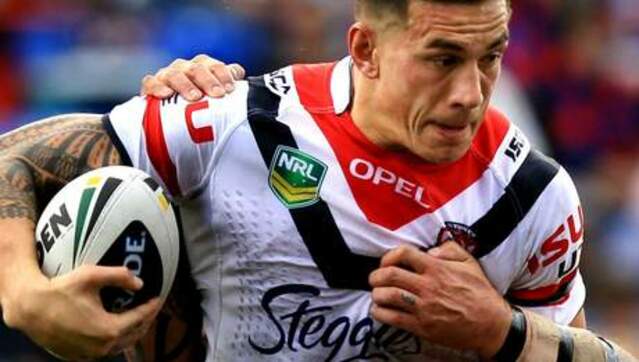 Prominent English racehorse owner Marwan Koukash has revealed his interest in coming to Sydney for next year's rich autumn carnival and will use the trip to continue efforts to recruit Sonny Bill Williams and Billy Slater to the Salford Red Devils.
Koukash, whose gelding Mount Athos finished third in this year's Melbourne Cup and is one of the favourites for Sunday's Hong Kong Vase at Sha Tin, has high ambitions for both his racing stable and the Super League club he rescued from financial ruin in January.
Sydney's autumn racing carnival, made one of the world's richest by a major injection of money, therefore appeals to the 54-year-old - whose net worth is estimated to be more than $900 million - and he told Fairfax Media he intended to target some of the 10 races carrying $18m in prizemoney.
''Absolutely, I am very much interested in that,'' Koukash said of the revamped carnival, which includes the $4m Queen Elizabeth Stakes. ''I have made an awful lot of friends in Sydney from the rugby league world and the construction business, and I would love to be able to go to Sydney and race there as well.''
Koukash made a point of introducing himself to Williams and Slater during the World Cup, ensuring he was on hand at AJ Bell Stadium after making Salford's home ground available to the Kangaroos when Slater underwent a fitness test on his injured knee before last weekend's final.
He also showed Williams and his manager Khoder Nasser the Reds' facilities during an open day for the club's fans and even offered to take the Roosters and New Zealand superstar to a mosque in Salford.
To afford the $1m-plus price tags for Slater and Williams, Koukash is leading a push to introduce a marquee player allowance in Super League and the idea is believed to have been discussed at an informal meeting of club bosses.
''If we are serious about wanting to grow our game and our competition then we have to introduce a marquee player allowance, and I am sure if it was introduced we would be signing people like Billy Slater and Sonny Bill Williams,'' Koukash said.
Despite uncertainty over the future of the London Broncos and more financial woes at Bradford, Koukash said the marquee player allowance was not only sustainable for most Super League clubs - but a necessity.
With a growing resentment within the game at the drain of talent to the NRL, which next season has England fullback Sam Tomkins joining the Warriors and forward Lee Mossop at Parramatta, Koukash said Super League clubs needed to fight back.
''I think it is good for the game to have two strong competitions because right now the Super League is second in class to the NRL and I would love in the future to see an international competition that involves some of the clubs from Down Under and the Super League,'' he said. ''At the moment your salary cap is almost three times the amount of our cap so it is not a fair competition but if you start having the marquee players allowance and attracting the good players from your competition to ours I think it is going to make it more fair.
''I absolutely believe in that because fans want to see the superstars so if we could sign the superstars the crowds would come in, the sponsors would come in, better TV deals would be on the table and all of a sudden we are not a second-class sport compared to other sports in England or second in class compared to your competition.'' Koukash's straight talking does not sit well with everyone in the British game but his recent unveiling of 12 recruits for next season under the marketing banner ''Red Devilution'' attracted the biggest attendance for a club press conference most could remember.
Among those the Reds have signed are England pair Rangi Chase and Gareth Hock, former Roosters hardman Adrian Morley, ex-Kiwi internationals Tony Puletua and Francis Meli, Melbourne centre Junior Sau, Warriors forward Steve Rapira and Eels fullback Jake Mullaney.
To complement those players, Koukash insisted he was only interested in the ''top'' NRL talent, saying: ''We have plenty of players here in the middle. We need the superstars, and only the superstars will do.''
He said the success of the World Cup - which attracted crowds totalling 571,090 and included a new international attendance record for the final and a semi-final crowd that was the biggest England have played before - demonstrated fans would turn out to see the game's best.
The semi-final between England and New Zealand, won 20-18 by the Kiwis after the full-time siren, was also watched by 2.9m viewers on BBC.
''That single game has done more for rugby league than what the RFL has done over the last five years, that's the way I see it,'' Koukash said. ''TV audiences are up and in terms of bums on seats that is up for rugby league, and a main reason that so many people turned up to see World Cup games is because they want to see the likes of Billy Slater and Sonny Bill Williams. I am sure if Billy Slater or Sonny Bill Williams play for us they will bring in an extra 5000 to 6000 on the gate wherever we go, so when we go to the likes of Wakefield and Bradford they will benefit from that because there will be extra fans.''
For those who doubt Koukash's determination to sign a player of the calibre of Slater and Williams, it should be noted he had not set foot inside a racetrack six years ago and now owns more than 100 horses - headed by Mount Athos and Gabrial.
After finishing fifth with Mount Athos in the 2012 Melbourne Cup and third from barrier 22 this year, Koukash confirmed he would be back for another attempt to win the famous race. ''I am definitely going back to Melbourne with Mount Athos and at this stage another horse, which is likely to be Gabrial,'' he said. ''We were so close - last year the horse was given a shitty ride and this year he was given a shitty draw. We just think things will work out for him next year.''