Vuelve el festival de música 'Altavoz Antioquia' 2013
December 09, 2013
via
Pepsi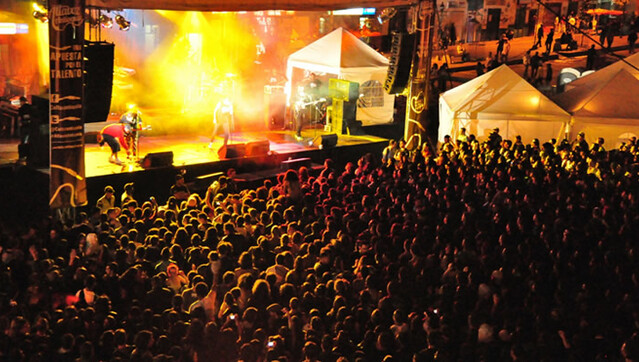 De unas 130 propuestas musicales que participaron este año en la convocatoria Altavoz Antioquia, nueve agrupaciones provenientes de distintos municipios del departamento, fueron las seleccionadas para presentar su música en la segunda edición del festival que celebra lo mejor del ska, pop, metal, punk, reggae y otros géneros urbanos y alternativos en el país.
Este año el Altavoz Antioquia se llevará a cabo en Envigado los días 12, 13 y 14 de diciembre y podrán asistir de manera totalmente gratuita. Los dos primeros días del festival se realizarán jornadas académicas y talleres prácticos para artistas y agrupaciones en formación dirigidos por figuras del medio como Juancho Valencia de Puerto Candelaria y los integrantes del grupo de punk IxRxA en los que se tratarán temas como producción de videoclips con herramientas TIC, charlas enfocadas a los grupos como empresas culturales y algunos consejos sobre la puesta en escena; el tercer y último día se dará cierre al festival con una fiesta que incluirá las presentaciones de las siguientes bandas:
Bandas invitadas:

Monsieur Periné. (Invitada nacional)
Mojiganga. (Invitada local)
Alcolirykoz. (Invitada local)
Rey Gordiflón. (Invitada local)
Zatélite. (Intercambio Festival Internacional Altavoz de Medellín)
Grupos clasificados por convocatoria.
Zona Latina (Zaragoza)
Rasta Zone (Caracolí)
The raza (Segovia)
El revés (San Pedro de Los MIlagros)
Vitamina P (Frontino)
Threat (La Unión)
Viajero (Fredonia)
Urabá Conexión (Carepa)
The Blue Hell Band (Caldas)
Les presentamos el video oficial del festival. Para más información sobre el evento ingresen aquí.