'Hobbit' towers over competition at N. America box office
December 15, 2013
via
Agence France Presse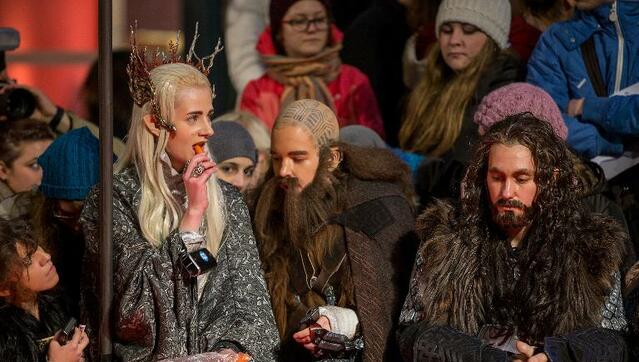 The latest installment of the Tolkien epic series, "The Hobbit: The Desolation of Smaug," claimed the top spot at the North American box office this weekend, industry estimates showed Sunday.
The second part of The Hobbit film trilogy, starring Ian McKellen and Martin Freeman on a quest to reclaim the hobbit homeland -- earned a commanding $73.7 million in its opening weekend, according to box office tracker Exhibitor Relations.
The series, directed by Peter Jackson, follow on the heels of his mega-successful trilogy adapted from J.R.R. Tolkien's "The Lord of the Rings."
In distant second, with a still hefty $22.2 million in ticket sales, was Disney animated musical "Frozen."
The 53rd movie in the Walt Disney Animated Classics series, which began with "Snow White and the Seven Dwarfs" in 1937, "Frozen" is loosely based on Hans Christian Andersen's classic fairytale "The Snow Queen."
Another new release opened in third place: "A Madea Christmas," directed by and starring Tyler Perry in his recurring role as Madea, chronicles yet another adventure in the life of the tough, old woman. It earned $16.2 million in its debut weekend.
That pushed the latest installment of the blockbuster "Hunger Games" franchise into fourth place with $13.2 million, taking its overall earnings since its record opening four weeks ago to $357 million in North America alone.
"Hunger Games: Catching Fire" stars Oscar winner Jennifer Lawrence as Katniss Everdeen, a teenager forced into a deadly battle for survival in the macabre post-apocalyptic kingdom of Panem.
Lagging well behind in fifth place was superhero flick "Thor: The Dark World," the latest movie based on Marvel's iconic comic book character, which took in $2.7 million.
The sixth place film, with $2.3 million, was "Out of the Furnace," a thriller starring Christian Bale and Casey Affleck as two brothers who are sucked into the criminal underworld as they attempt to break free from poverty.
"Delivery Man," a comedy starring veteran funnyman Vince Vaughn as a sperm donor who discovers he has sired 533 children, earned $1.9 million for seventh place.
In eighth place, up one slot from last week, was "Philomena" starring Steve Coogan and Judi Dench, about a journalist who helps a woman search for her long-lost son, seized when she was forced to live in a convent. It made $1.8 million
Just behind in ninth place was World War II drama "The Book Thief," based on Markus Zusak's best-selling novel about a girl who steals and shares books in Nazi Germany. It earned $1.7 million.
Rounding out the top ten, gritty action-thriller "Homefront," about a former drug enforcement officer forced to battle a meth druglord in small-town America, took in just over $1.6 million in its third weekend in theaters.