Clarke vindicated on toss decision as England batsmen fail again
December 26, 2013
via
The Age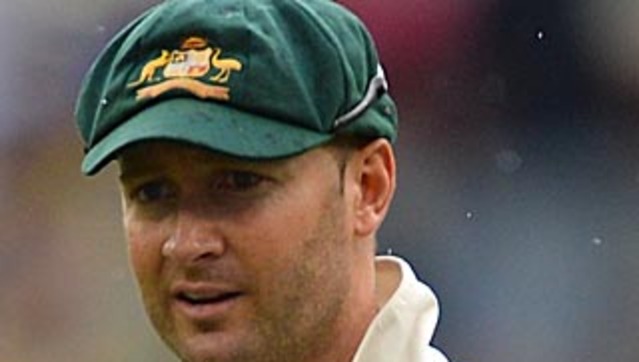 Michael Clarke didn't know what to do when he won the toss, but the form of Australia's resurgent fast bowlers meant there was no Boxing Day blushes for their captain.
An hour into the game, it seemed Clarke may have pulled the wrong rein, but another outstanding display by his quicks left England in an all-too-familiar position after the first day of the fourth Test.
In the 20 Tests in which Clarke has won the toss, he has chosen to bowl on only four occasions, but his band of pacemen were eager to take advantage of the seam-friendly conditions.
''It was difficult. I think Michael wanted to lose this one and didn't know what to do. When he left for the toss, he was batting,'' said paceman Ryan Harris.
''There was a bit of moisture in it. I was hoping to bowl, to be honest.
''The conditions to me were a bit like Brisbane, with a bit of humidity around, a bit sticky. I was keen to bowl and he thought the same.''
An hour in and it seemed Clarke may not have made the right call as Alastair Cook and Michael Carberry made batting look easy for England than at any time during this one-sided series.
But the honours were undoubtedly with Australia several hours later after England stuttered to 6-226 at stumps.
''We didn't start off as well as we liked,'' Harris said. ''When you win the toss and bowl, you want to make sure you're on and firing from both ends. We probably didn't do that.
''Once again we pulled it back; 6-226 at the end of the day, with three chances down as well, it's a pretty good day I think.''
Despite the series already being decided, Australia's fast bowlers maintained their ruthless attitude against England's out-of-form batting line-up.
''After that first hour-and-a-half, I thought we bowled really well. They would have found it really hard to score,'' Harris said.
''They were being watchful but we didn't give them any bad balls to hit and release the pressure. That was our goal, to bowl lots of dots, and we did that and we got a lot of wickets from it.''
The rewards came somewhat belatedly towards the end of the day, when Johnson struck with the second new ball to swing the game firmly in Australia's favour.
But Harris claimed the key wicket, dismissing Ian Bell - Australia's nemesis from the away series in England - for 27 after luring him to prod at a delivery just outside off stump.
''We sat down at the start of the series and really concentrated on him and trying to tie him down. It worked today with him nicking one,'' Harris said.
''The same with the rest of the batsmen. If we're trying to tie [them down] and put as much pressure on them as possible, make them make the play. If we bowl at them like we did today, we'll have days where they're not going to score many runs because we're putting so much pressure on.
''I think they are aggressive normally, we're just not letting them be aggressive.
''Cooky came out this morning and was aggressive, but once we got through that first hour we pulled it back and he got himself out.''
Harris, with 2-32 from 20 overs, was marginally Australia's best bowler, though Johnson's late burst again stole some of his limelight.
Harris dismissed Joe Root and Bell but had three chances put down and a referral against Carberry that narrowly went against him.
''I feel like I'm bowling well. For me it's still making sure I maintain it every spell. You never get complacent and say you're bowling well and are happy with it.''