Harris puts country ahead of cash
January 16, 2014
via
The Age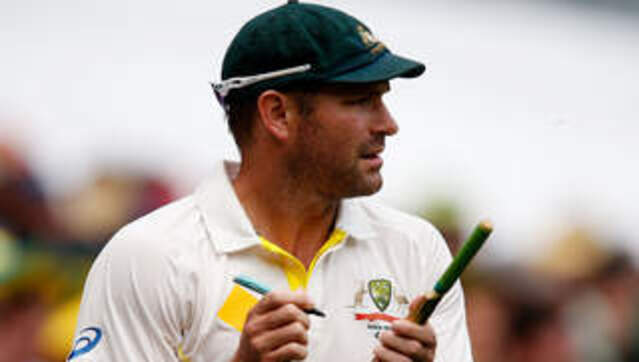 Ashes hero Ryan Harris will put country before cash, deciding not to enter the Indian Premier League auction and instead have surgery on his troublesome knee to stretch out his late-blooming Test career as far as he can.
After an outstanding summer against England, the 34-year-old is readying himself for next month's three-match series against world No. 1 South Africa, where Australia hopes to ram home its resurgence as a Test nation.
Harris managed to not only get through all five Ashes Tests against England in a seven-week period, but starred throughout, with his 22 wickets at an average of 19.31 only overshadowed by the express pace and hostility of Mitchell Johnson.
He prospered despite a lingering knee complaint that requires an operation, and which has caused him to think long and hard about whether or not to feature in this year's rich IPL.
Fairfax Media understands Harris has decided not to enter the tournament's auction on February 12, in which he could have stood to make a small fortune.
His last IPL contract, with King's XI Punjab, was worth $350,000, and given his brilliant output this summer he could well have attracted far more than that when the IPL franchises take their pick of nominated players next month.
As opposed to last year's heavy schedule, this year is light on in terms of Test commitments for Australia, with only the showdown against South Africa and a series against Pakistan in the United Arab Emirates leading into next summer's contest against India in Australia.
In that respect Harris might well have been justified in grabbing a pay day in the IPL and delaying surgery, but his decision to skip the tournament and go under the knife after the South Africa tour demonstrate where his priorities lie.
In the frame to equal the Australian record for the quickest fast bowler to reach 100 Test wickets – he has 93 in 21 matches – Harris has identified reaching the 2015 Ashes defence in the northern hemisphere as his major objective.
And as Australia sets about building on its 5-0 devastation of England, managing the future of Harris is a key issue.
Cricket Australia's high-performance manager, Pat Howard, said this week that Australia was intent on trying to ensure Harris can feature in the attack for as long as possible. "I think we're managing him really well and if we use the schedule as we can and not overload him, we can work with him for long periods," Howard said.
"He and I have had those discussions . . . our first goal is obviously to get him on the plane to Africa, fit and ready to go.
"We've worked really hard to make sure all the really good work the medics and the strength and conditioning guys did that allowed him to get through the last period, we're doing all those things again.
"There is a real opportunity to get some real longevity out of him, which I know he's really keen to do."
Johnson, 32, is no rookie either despite his jaw-dropping form in the Ashes and Australia is conscious of keeping its front-line pace trio – Peter Siddle being the other member – in shape for as long as it can.
"I think if we can try and look after them the best we can and make sure the majority of the stuff they play is at the pointy end – Test matches," Howard said.
"We've seen fast bowlers go well into their late 30s, we've seen some that haven't made it to Ryan Harris' age. There is that individual susceptibility and longevity. The longer that we try and work with those guys and not burn them out, the more we can get out of them."
Harris has enjoyed a rest after the Ashes and makes his competitive return for Brisbane Heat against Adelaide Strikers in the Big Bash League on Saturday night.
"I'm feeling pretty good and looking forward to stepping up my bowling again after a bit of a break," Harris said.