Lo mejor de los Grammy 2014 en GIFS y Videos
January 27, 2014
via
Pepsi Colombia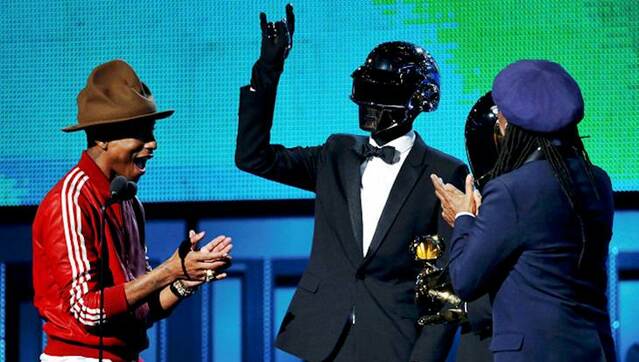 Beyoncé, Macklemore & Ryan Lewis, Daft Punk, Pharrel fueron solo algunos de los nombres que dieron de qué hablar en una de las noches más importantes de la industria musical y del entretenimiento.
Si se lo perdieron no se preocupen. Recopilamos para ustedes los mejores momentos de la edición Nº 56 de los Grammy en GIFS y Videos, para que los repitan una y otra vez:

La increíblemente sugestiva presentación de apertura de Beyoncé y Jay-Z con "Drunk in Love"
El sombrero de Pharrell Williams
Entendemos la presión de salir al escenario con Daft Punk, y Pharrell definitivamente logró que su particular accesorio lo sacara de la sombra. El sombrero se convirtió oficialmente en el personaje de los Grammy 2014 y cobró tal importancia que incluso abrió su propia cuenta de Twitter:
El 'headbanging' o la forma en que Taylor Swift movió su melena durante la interpretación de "All Too Well"
Suponemos que fue resultado de toda la emoción contenida durante la presentación, pero al final Taylor definitivamente lo dejó salir todo en el escenario:
La reunion de los Beatles
Paul McCartney y Ringo Starr interpretaron juntos la más reciente canción de McCartney "Queenie Eye", en una emotiva e inolvidable presentación.
Cuando 34 parejas se casaron simultáneamente durante la presentación de "same Love" de Macklemore & Ryan Lewis y Mary Lambert, junto a Madonna y Queen Latifah:

Cuando Stevie Wonder se unió a Pharrell, Nile Rodgers y Daft Punk para interpretar "Get Lucky":

El cierre perfecto a cargo de Nine Inch Nails, Queens of The Stone Ange, Dave Grohl y Lindsey Buckingham de Fleetwood Mac:
Para conocer la lista completa de ganadores de la noche entra aquí.