Pulse on Who's Next: Mack Wilds
February 06, 2014
via
Pepsi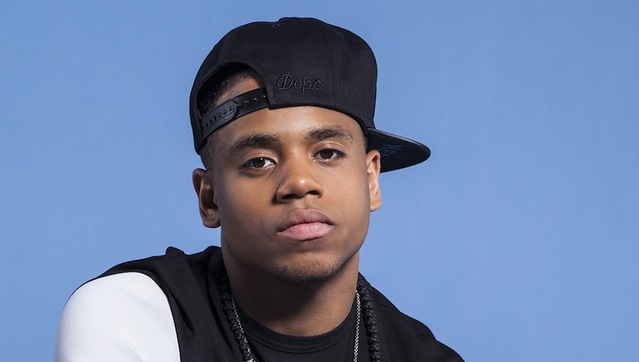 Mack Wilds is the consummate triple threat. Born Tristan Paul Mack Wilds, the 24-year-old Staten Island native got his start as an actor in the mid-2000s and would land some major spots that showcased his capabilities on the small and big screen alike. His two most recognizable roles came on the critically-acclaimed HBO series The Wire as innocent-turned-bad boy Michael Lee, and his leading part on 90210 as the charming teen Dixon Wilson. The latter role would earn Wilds a Teen Choice Award nomination for "TV Breakout Star" in 2009. However, his career in acting would only be the beginning of his rise to stardom.
In 2010 Mack Wilds transitioned into the music industry, trading in his Hollywood aspirations for a recording studio. The decision has been successful for Wilds thus far, who first released Remember, Remember in 2011, a seven-song EP that displayed his musical range as a rapper and singer. He's expanded on this varietal approach on his debut album New York: A Love Story. Released this past September and executive produced by veteran artist Salaam Remi, the project finds Wilds focusing on personal tales of love, heartbreak, and a beautiful narrative of growing up in "the Big Apple."
His first single from the project, "Own It," is an inescapable pop hit as Mack Wilds weaves his magnetic vocals over a melodic backdrop. He recently appeared on The Arsenio Hall Show to perform "Own It" alongside a live band, and it was met with a warm reception from the crowd. These types of records on New York: A Love Story balance out well with "The Art of Fallin,'" where Wilds trades in his singing for mellow rhymes. It's clear he has a lyrical finesse that could easily be pursued, but he smartly engages his fans on his debut album with a tone that puts an emphasis on R&B. The move has paid dividends for Wilds as he recently earned a Grammy nomination for "Best Urban Contemporary Album." While he faces stiff competition in a category that also includes Rihanna, Tamar Braxton, and even his mentor Salaam Remi, it's safe to say this won't be the last time Mack Wilds earns a trip to the Grammys for his musical efforts.
We got on the phone with Mack Wilds to discuss his debut album New York: A Love Story, working with Salaam Remi, covering Michael Jackson, and his first GRAMMY nomination. Get to know him below!
You've said before that musical aspirations have been a part of your life since you were a child. Of course, acting took center stage during your earlier years, but now you're finally carrying out your dreams as Mack Wilds. Tell me about that transition from acting to becoming a recording artist.
Honestly, I think the main thing I needed to transition from one to the other was the time to really put together the right album. Something that really showed musically what I am, who I am, where I'm from, and what I want to do.
You hooked up with veteran producer, Salaam Remi for your debut album New York: A Love Story. Tell us about the musical relationship between you two?
It's weird, I got to know Salaam as a best friend and as a brother before we even decided to do any music at all. I met him when I was about 18-years-old. And from there we just really connected. I'd go to him with music just to let him hear what I was writing, and he'd critique it. Or he'd let me hear what he was working on with Miguel or Ne-Yo. But it wasn't before this past December that he actually said, "You know what, why don't you come down to Miami. Let's see what you can actually do."
And how did it go? That moment when you're like, okay, we're finally hooking up in the studio.
It was crazy. I live by two rules when I go to the studio with someone new, especially someone that I respect. You got to show up, and you got to show out. Once I got that trip to Miami, I felt like there was nothing else I could do. So every test that he threw at me, I did my part.
You also have several collaborations on the project with hip-hop luminaries like DJ Premier, Pete Rock, Raekwon, Method Man, the list goes on. What was it like working with them?
The way that me and Salaam put together this album and getting everybody on board, that was probably the most amazing part to me. Because it wasn't based off of who I was previously; the characters that I played or the moves that I made in my career before that. It was more based on literally just the music.
The reason why I can say that is because they did it before they even knew that it was me. Salaam let them hear the rough cuts of the album. And after they were like, "I really dig this kid. Who are you working with?" He'd be like, "Oh, some new kid named Mack from Staten Island." Nobody really caught on. The people that helped out really helped out on the merits of me as a singer and as a writer rather than being the kid from The Wire.
Definitely. Speaking to that point, to have that level of respect from artists who, I'm assuming you also looked up to and respected, must have been a great feeling.
These are the guys, literally, that have shaped the soundscape in my mind since I was a kid. DJ Premier, Pete Rock, Method Man, Raekwon. These are the guys that I idolized in a sense, you know?
Your album includes an incredible remake of Michael Jackson's 1992 hit single "Remember the Time." Why cover that song?
Michael Jackson is definitely another guy that I idolize. So much that I wish I could dance [laughs]. Because I can't, I know I can sing a little bit. So it felt needed.
The funny story about it is I didn't even necessarily know that this was going on the album. I was sitting back writing and Salaam stopped me and he was like, "Go in there and sing 'Remember the Time.'" I was like, "Are you serious?" He was like, "Yeah." "Over this beat?" He was like, "Yeah, just go and sing 'Remember the Time.'" I went in there, sang it.
A few months later he's like, "I did some remixes to 'Remember the Time.' We're putting it on the album. Just trust me."
You recently received a Grammy nomination for Best Urban Contemporary Album, a first of what will likely be many more in your career. What was that moment like for you, and have you soaked it all in yet?
Honestly, I haven't soaked it in at all yet. It's still very surreal. To the point where sometimes people say it and I blush a little bit like, "No, you're just saying that. Stop." But it's a crazy feeling.
When I got the news I was still very much deep in my promo tour. I was in Richmond, Virginia in my hotel room and it seemed like time stopped for a second. It made sense but it didn't make any sense, because every part of my body was like, it's your first album, you shouldn't even think about it. Don't worry about it, it is what it is. Dig your head into the ground and keep working. But then a little part of me was just like, "What if?" That "what if?" came true.
Earlier you said you're about halfway done with your next project. What can fans expect from Mack Wilds in the New Year?
Growth. Some more features, more videos. I don't know, maybe I'll jump back on TV or something [laughs]. Honestly, the bounds are endless. I feel like right now I can do whatever I want. And I love that feeling.
Check out Mack Wilds' latest releases on Soundcloud here.