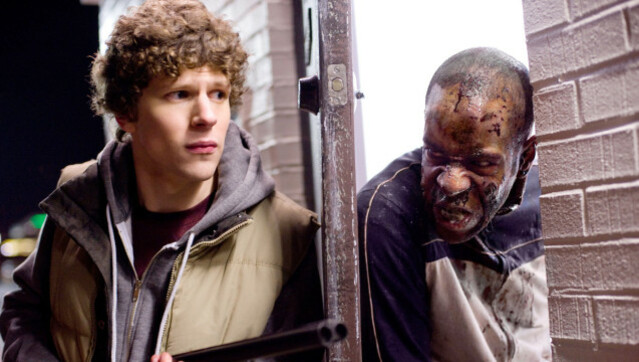 Columbia Pictures via Everett Collection
Nadie sabe exactamente cómo terminará el mundo. ¿Será con un Apocalipsis zombie? ¿Una invasión alienígena? o qué tal algo más bíblico ¿vendrá el fin del mundo con grietas en el suelo y bestias que rondarán la tierra? No importa cuál sea el escenario, Hollywood los ha cubierto todos y tiene en cada película una guía para ayudarte a estar preparado para el fin del mundo:
Si Simon Pegg y Nick Frost pueden sobrevivir a un Apocalipsis zombie, entonces hay esperanza para todos.

Dos cosas solamente: No inicien una pandilla de caníbales y siempre respalden a sus amigos. Además si los Backstreet Boys van al cielo en esta película, no vemos por qué ustedes no deberían.
Tal vez la idea de una guerra mundial en la que todo quede destruido excepto Estados Unidos, no suene muy bien, pero seamos sinceros: si quieren aprender a sobrevivir, Katniss Everdeen es la mejor maestra - excepto cuando se trata de tener habilidades sociales-.
La principal enseñanza de War of The Worlds es que a veces la solución más sencilla es la mejor. Así que si los aliens nos invaden, solo hay que estornudar sobre ellos.
Mad Max (1980)

Habrán un montón de pandillas en motocicletas en el futuro post-apocalíptico, y tendrán que asegurarse de encontrar la correcta. ¿Cómo encontrar la adecuada? simplemente lo sabrán cuando lo hagan.
Aunque suene a un parque acuático familiar, Waterworld en realidad es un filme de ciencia ficción post apocalíptico de los 90s interpretado por Kevin Costner. En caso de que las capas de hielo polares se derritan y cubran por completo la tierra con agua, les recomendamos tomar nota de todo lo que sucede en esta cinta.
La película es literalmente una guía de cómo sobrevivir al Apocalipsis zombie con reglas enumeradas por orden de importancia y todo - aunque descubrimos que faltan algunas. ¿Por qué omiten la 35 y la 47? ¡podrían ser importantes! -.
Cuando todo esté perdido y los robots estén muy cerca de aniquilar a los humanos solo recuerden: siempre está la posibilidad de enviar a alguien al pasado para crear al futuro salvador de la humanidad. Sencillo.
Follow @Hollywood_com Follow @mollyrockit