Bendigo Spirit through to another WNBL grand final
February 23, 2014
via
The Age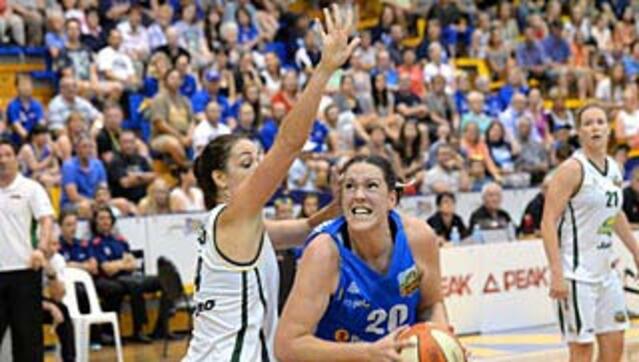 Bendigo Spirit is one win away from a second-straight WNBL championship after defeating Dandenong Rangers in their semi-final at Bendigo Stadium.
Superb individual performances from Kelsey Griffin and Kristi Harrower set up the Spirit's 10th-straight win over Dandenong and a home grand final on March 9.
''We didn't play great and that's credit to Dandenong because they didn't allow us to play great,'' Spirit coach Bernie Harrower.
''That Spirit style basketball got us through. All year even when we haven't played well, we've found a way to win.''
The script was similar to so many of the past 10 encounters between the two clubs.
Dandenong started strongly, led by as many as eight in the first quarter and looked capable of scoring an upset victory.
As the game wore on Spirit's defence tightened and Dandenong's confidence faltered.
By half-time the scores were level and early in the third term Spirit put its foot down, grabbing a match-high 10-point lead before Rangers rallied late to cut the deficit to six at the final break.
A three-pointer from Dandenong star Jenna O'Hea at the start of the final term put the pressure back on the Spirit. But the defending champion steadied.
Kristi Harrower found form at the right time, the veteran nailing a huge three-point bomb to bring the big home crowd to life.
It gave the Spirit an eight-point cushion and took the momentum away from the Rangers.
Griffin was the hero for Spirit. The reigning grand final MVP scored 19 points, had 16 rebounds and blocked three shots to enhance her status as one of the best big-game players in the WNBL.
Bendigo 71: (K Griffin 19, K Harrower 14, K Wilson 14). Dandenong 62: (J O'Hea 16, A Kunek 13, B Ardossi 12).