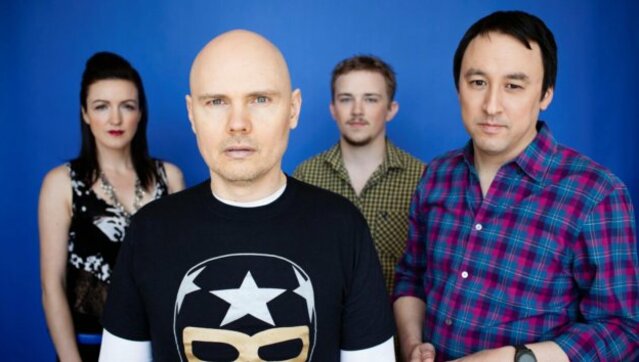 Martha's Music
It's fair to suppose that there are a number of Smashing Pumpkins fans who don't quite know what to make of Billy Corgan's description of the two albums that the band is recording as we speak.
Known for sometimes being a bit grandiose in speech, the Pumpkins frontman describes the sound of the forthcoming albums -- which have been named but not yet recorded -- as "'guitars, guitars, guitars, and more guitars' but more so on the epic side of things than say, grossly metallic."
And there's a bigger mystery: In a press statement, Corgan elaborates by describing the band's new material as, "the initial post on a new nexus: The Panopticon, which through its simplicity should better address the speed of modern life."
Corgan promises fans that all will become clear a little at a time: "Items regarding each day's recording will be shared that same evening, with song titles, lyrics, poetic impressions, pictures, sound clips, studio gear and the like offered for a circuitous, bird's eye view of the process as it unfolds."
Updates will apparently be appearing on the band's official website. 
A first single -- which hasn't yet been picked -- is expected by the end of 2014 and, oddly, the two albums slated for next year already have names: Monuments to an Elegy and Day for Night. 
Smashing Pumpkins' last studio album was Oceania, which appeared in 2012.  In the meantime, Corgan has been tending to his New York City teahouse Madame ZuZus, where he sells "gourmet tea...[at] prices that are a little higher."
Copyright 2014 ABC News Radio