Gold Coast Titans v North Queensland Cowboys
March 31, 2014
via
Sydney Morning Herald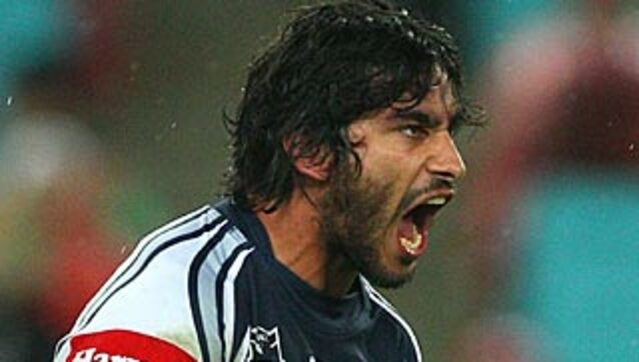 Live coverage: Gold Coast Titans v North Queensland Cowboys
The players are on the field now, kick-off just moments away.
3rd min: The first penalty to the Cowboys. A kick put pressure on David Mead's wing and the Titans were offside in retrieving possession.
5th min: The Titans survive a repeat set but must now ruck it out from their own 10 metres after winning a scrum.
Do we have a try to Johnathan Thurston? The referee is going upstairs and has called it a try.
It was a mid-field bomb by Robert Lui. Brent Tate flies high and competes with David Mead. The question is was it a knock on or back?
7th min: The video ref agrees with on-field ref Chris James. TRY!
8th min: Thurston kicks the conversion. JOHNATHAN THURSTON 6 GOLF COAST 0
Apparently there is a snake in the stadium. And the Gold Coast Titans strike. But it's going upstairs - ref says try but checking for obstruction
10th min: Nate Myles drops the ball but the refs correctly call a strip. The Titans have a set of six inside the Cowboys' 22.
No try. But confirmation of a three-foot brown snake somewhere in the stadium. 
Gold Coast attack again but once more let down by their finishing. Cowboys 6, Gold Coast 0.  
Halfway through the first half and Cowboys outflank the Titans, but a mistake sees the Gold Coast hang on.
And now the Gold Coast are back on the attack. Making good yards but can they finish it.
Grubber kick through into the in-goal and Brad Tighe dives. Video ref says no try and the score remains Cowboys 6 Titans 0. 
More happening on the error count than the scoreboard at the moment. Titans 7 errors to Cowboys 6. But here's a penalty to the Titans and they are five metres out.  
No joy for the Titans but they're really muscling up in defence and Thurston forced to clear from inside 30. Cowboys 6 Titans 0.
That was very strange. Thurston under a bomb in his in-goal and tries to knock it dead when he could have easily caught it. Drop out. 
Two minutes to go and it's still a tennis score (or a football score if you're Arsenal) 6-0. 
And that's halftime. In the understatement of the season Luke Bailey says: "It hasn't been pretty" as he trudges off. The most excitement was provided by the brown snake, but unfortunately he seems to have scaled back his involvement and fanged it out of the joint via a water pipe.
It's started to pour here. So if you were looking forward to a more exciting and less error-ridden second half, you may be disappointed.
Could be a try to the Titans after Michael Morgan spills a bomb and Kevin Gorden pounces. Gone to video but looks good and ... green light. Kick to come from in front of the posts.  
Kick is good and we're all tied up at 6-6.
Cowboys are over in the corner but ref sends it upstairs and says "no try". Looks like a toe on the chalk and it's no try.
Cowboys spill a Titans grubber and we're going upstairs again but ref is saying no try. 
Morgan saves the day for the Cowboys and grounds the ball, but more pressure as it's a goal-line drop-out.
Fourteen minutes to go. Penalty Cowboys and Thurston points to the post but decides against it. Cowboys deep in attack, but they drop it again. Can't seem to build any pressure.
Cowboys back in Titans' half. Can they finally create something? No.
nullnullnull
Promising break for Cowboys breaks down when the last pass goes wide of the winger and into touch. Frustrating to watch!
Cowboys starting to make inroads, and now they have the Titans pinned in their own 20 but a penalty relieves the pressure.
Bomb goes high from Gold Coast and almost a try but Anthony Don puts a boot on the sideline.
Tamou drops it cold on first tackle in his own 20. Pressure on. Still 6-6.
Another high ball and Brad Tighe drops it over the line. No need to despair though Titans fans because the Cowboys have dropped it on the second tackle.