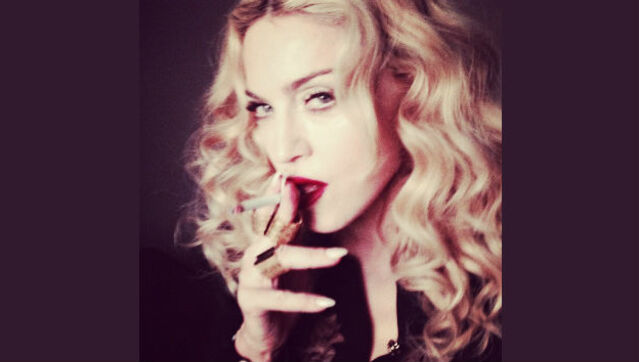 Image Courtesy Madonna via Instagram
Most of the material on
Buzzfeed
consists of quizzes like "Which Pop Diva's Haircut Should You Actually Have?" or postings with titles like, "The 20 Cutest Pictures of Cat's Paws."  But
Madonna
has now jumped into the mix, posting a
thought-provoking list
of the "11 Freedom Fighters" who've inspired her.
Topping Madonna's list, which is serious, and not a joke, is John Lennon, about whom she writes, "He went from being one of the world's greatest pop stars to speaking out against the Vietnam War and using every opportunity he could in interviews to spread his message of peace. And he wrote one of the greatest songs ever about peace, 'Imagine,' one of my favorite songs."
Coming in at #2 is Malala Yousafzai, the Pakistani teen who survived an assassination attempt by the Taliban for daring to suggest that women and girls should be educated.  Madonna has long been a supporter of Malala's, and even dedicated one of her concerts to her in 2012.
Writer James Baldwin is #3 on the list; Madonna calls him "one of my greatest inspirations as an artist."  Late acting legend Marlon Brando is #4 -- Madonna writes, "He was willing to fight for the rights of American Indians and he didn't care if it made him unpopular in the entertainment community (which it did). He was a bada** in every way, what can I say?"
Martin Luther King Jr. and Nelson Mandela are #5 and #6 on Madonna's list, and #7 is Pussy Riot, the Russian female punk collective whose members were jailed for speaking out against President Vladimir Putin.
Pop artist Keith Haring, who died of AIDS in 1990, is #8 on Madonna's list. "Keith was a great friend who was very supportive of me in the early days of my career. He used street art to bring awareness to the gay community -- fighting for equal rights for all, but specifically for people who were HIV positive," she writes. 
Number nine is the Mexican artist Frida Kahlo, who most Madonna fans know is one of her favorites.  Another artist, Ai Weiwei [eye way way], is #10; Madonna writes, "He was abducted and held in captivity for 81 days for continuing to create art even though the government forbade him to. He cleverly used social media to speak out about his predicament and bring awareness other to fellow Chinese artists."
Bringing up the rear at #11 is Nancy Cunard, the heir to the Cunard shipping fortune.  Madonna writes, "Because she fought for the rights of African-Americans in the '20s and '30s, she was disowned by her family. She raised money to buy a printing press so she could print newspapers and books to keep African-American culture alive through poetry, music, literature, and art. She ended up destitute because she fought for what she believed in...she was extremely courageous."
Madonna ended her list with another article called "Are You With Me," in which she invites the Buzzfeed community to join her Art for Freedom project, and submit art inspired by the concepts of freedom and human rights. She'll be giving her input and encouragement to the participating artists on April 14 at 6 p.m. on Buzzfeed.
Copyright 2014 ABC News Radio