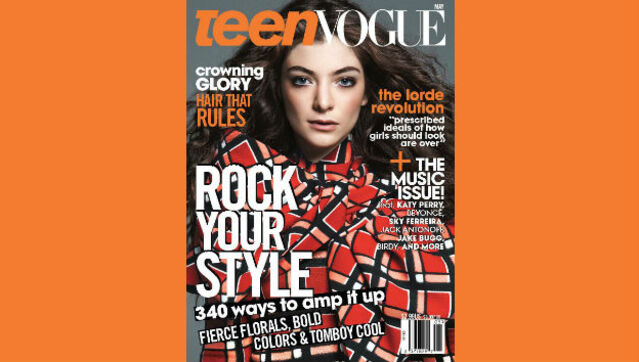 Courtesy Teen Vogue
Lorde
may complain about being asked to smile during fashion shoots, but that doesn't mean she hates them.  In fact, she's perfectly thrilled to be appearing on the cover of the May issue of
Teen Vogue
.
"[S]o happy about this. teen vogue cover star yaaaaaaaw," she tweeted, and also shared a few images from the fashion shoot, including one which depicts her wearing a strange-looking headband that looks like it was made by a kindergarten student. "My favourite photo from the shoot -- feat. improvised duct tape and feather crown," she tweeted. "My kind of magazine obviously."
In the cover story, Lorde talks about her newfound fame, expressing astonishment that former Lizzie McGuire star Hillary Duff attended one of her concerts. "This is the most insane thing that's ever happened to me. That's my childhood right there. Hilary Duff is a fan—that freaks me out!" she exclaims.  She also reveals some praise she received from Lena Dunham, Emmy-winning star and creator of HBO's Girls.
"I finally watched Girls a couple of days ago and I loved it," she tells Teen Vogue. "I tweeted Lena Dunham and she was like, 'You're the dream audience.' I really appreciated that. I was like, 'Ahh!'"
As for the fame that's allowed her to have these sorts of Twitter conversations, Lorde tells the magazine, "Living in New Zealand, you don't get these experiences. I spent so much time in my room before. My life is so wild right now. For me to be able to do something I really enjoy and for that to get me out in the world -- to South America, to here, to London -- every day I kick myself, I'm so lucky."
Teen Vogue has posted a variety of behind-the-scenes shots of Lorde posing for the mag, and while she looks plenty glamorous, in the interview she stays on message about wanting to break the typical teen beauty stereotypes.
"There are a lot of expectations in this industry about looking a certain way and having a certain kind of appeal," she says. "I am feminine, but I really love dressing in boys' clothes too. I guess that's why I get labeled as 'the grumpy girl,' because I don't play into that."
You can read the entire interview when the magazine hits stands April 29.
Copyright 2014 ABC News Radio