Presentamos el álbum visual: The Pepsi Beats of the Beautiful game - ¡Que suenen los beats!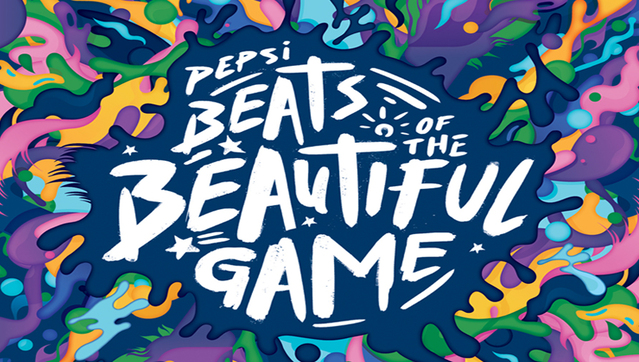 Once Canciones. Once cortometrajes. Millones de fanáticos de todo el mundo. Un juego apasionante. Esto es lo que hace posible The Pepsi Beats of the Beautiful Game. Continuando con el éxito de "Heroes" de Janelle Monae, ahora te traemos los beats y clips de artistas como Don Omar, Jessy Terrero, Rita Ora y muchos más. "Heroes" de Janelle Monae estuvo acompañada por un increíble cortometraje que lleva apropiadamente el mismo nombre (Encuéntralo aquí) y que fue producido por el colectivo de talentosos creadores llamado The Young Astronauts. Dándole un giro a la vez conmovedor y divertido a la legendaria canción de David Bowie, tanto el video como el track han recibido elogios del cantante y de una legión de fanáticos que amaron esta nueva versión de la canción.
Luego de este increíble lanzamiento que hizo parte de nuestro soundtrack visual, llega en exclusiva el lyric video del sencillo de Rita Ora "I Will Never Let You Down (Switch Remix" y…
Un avance del siguiente track de The Pepsi Beats of the Beautiful Game llamado "Pura Vida", a cargo de Don Omar y del renombrado director Jessy Terrero.
Don Omar no solo es un artista de reguetón reconocido internacionalmente, es una figura influyente a la hora de crear música, entretener e inspirar. En su track para el álbum Pepsi Beats of the Beautiful Game hace todo esto y mucho más. Esta es una canción de motivación dirigida a los jugadores de fútbol y a los aficionados por igual y en las imágenes del corto que la acompaña, el director Jessy Terrero logra encapsular el mismo espíritu vigorizante de la letra. Terrero es mejor conocido por su innovador trabajo y su famosa clientela, entre la que se encuentran varias superestrellas del hip-hop y el reguetón como Don Omar.
Pista 1: Filmado en Ciudad de México, el video se centra en presentar una forma poco convencional de reunir a un equipo.
Pista 2: La vision del supercoreógrafo Caspar Smart para lograr movimientos más dinámicos y una inesperada aparición del actor Wilmer Valderrama, hacen de "Pura Vida" un video imperdible.
Acerca de Pepsi Beats of the Beautiful Game:
El talento del grupo de músicos seleccionados para hacer parte de este soundtrack visual sin precedentes, no solo atraviesa diversos géneros musicales sino además fronteras nacionales. Todos los artistas de The Pepsi Beats of the Beautiful Game comparten una característica particular: el impulso infinito que los conduce a alcanzar sus logros. Músicos como Kelly Rowland, Janelle Monáe, Don Omar, Rita Ora, R3hab, Eva Simons, Jetta, Santigold, Timbaland, Rachel Assil, Pearls Negras, Jolin Tsai Yl-ling y Hassan el Shafei hicieron equipo con directores como Spike Lee, Idris Elba, The Young Astronauts, Jessy Terrero, Diego Luna, Andy Morahan, The Kolton Brothers, Cine Favela, y Cai Yiqi, a quienes les fue dada total libertad creativa para dar vida a las canciones y las historias del fútbol.
Las canciones y los films se estrenarán en exclusiva por Pepsi.com. El album completo de 11-tracks de Pepsi Beats of the Beautiful Game sera lanzado el 9 de junio a nivel internacional y el 10 de junio en Estados Unidos. Mira el tracklist a continuación y pre-ordena una copia del álbum en ITunes. Sigue a @Pepsi en Twitter utilizando el hashtag #FUTBOLNOW para enterarte de las noticias más actuales.
The Pepsi Beats of the Beautiful Game
1. Janelle Monáe, "Heroes," con el filmtrack creado por The Young Astronauts
2. Don Omar, "Pura Vida," con el filmtrack creado por Jessy Terrero
3. Rita Ora, "I Will Never Let You Down (Switch Remix)" con el filmtrack creado por Diego Luna
4. R3hab feat. Eva Simons, "Unstoppable," con el filmtrack creado por Idris Elba
5. Jetta, "Crescendo"
6. Kelly Rowland, "The Game," con el filmtrack creado por Spike Lee
7. Santigold, "Kicking Down Doors," con el filmtrack creado por Andy Morahan
8. Timbaland starring Rachel Assil, "Whoever We Are," con el filmtrack creado por The Kolton Brothers
9. Pearls Negras, "Guerreira," con el filmtrack creado por Cine Favela
10. Jolin Tsai Yl-ling, "Now is the Time," cone l filmtrack creado por Cai Yiqi
11. Hassan el Shafei, "Ahlam Men Gedial"