PEPSI Summer Solstice Concerts on Vevo Spotlight: Kid Ink
June 20, 2014
via
Pepsi Pulse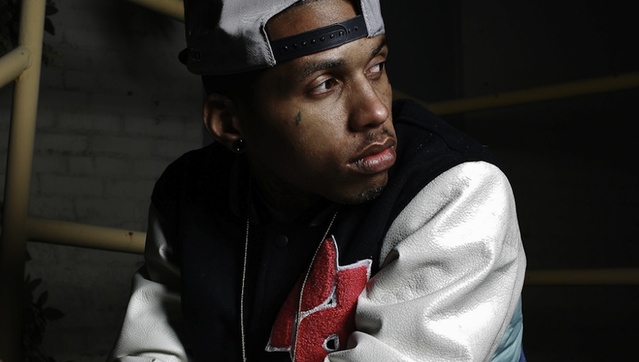 Hip-hop fanatics have been enamored by Kid Ink's faultless ability to make hit records. Before tattooing his name on the forefront of California, Brian Todd Collins was a teenager who marveled at the creativity of top tier producers such as Timbaland, Pharrell and Swizz Beatz. Shortly after learning the ins and outs of the production game, Kid Ink began crafting beats for Diddy, Sean Kingston, and Nipsey Hu$$le. After becoming an adept producer, Kid insisted on tackling some of his bigger goals. At age 22, Kid Ink decided to pursue rap full time.
The rap aficionado slowly began demolishing doubts when HotNewHipHop's very own, DJ Ill Will listened to the rapper's first mixtape entitled World Tour. Kid Ink – who originally went by the name of Rockstar – earned the respect he needed from Ill Will and inked a deal with the DJ's label Tha Alumni Group. This prompted the rapper to change his name to Kid Ink. From then on, nothing was the same.
In 2011, Kid Ink dropped his first mixtape, Crash Landing, under Tha Alumni Group. The mixtape featured Ty Dolla $ign, Meek Mill, and Roscoe Dash – all who just like Ink, were relatively unknown, but were bubbling in their respective cities. To keep the momentum tilting in his direction, Ink dropped his second mixtape DayDreamer that summer. DayDreamer boasted even more features ranging from Bow Wow, Sean Kingston, Meek Mill, and Ray J. Just when you thought Ink provided his fans more than enough music, he treated them to a third mixtape in September 2011, entitled Wheels Up. The mixtape featured 2 Chainz, Nipsey Hu$$le, & Tyga. In just a year, Kid Ink provided his fans three mixtapes. His name disseminated through the web like wildfire. In a time where artists imploded because of oversaturation, Kid Ink relished at the opportunity of providing his fans more than what they needed. XXL caught on to Kid's rabid fan base and signed him on to be part of their 2012 Freshman class which featured the likes of Future, Macklemore, French Montana, and Iggy Azalea.
In 2012, Kid decided to take the leap of faith and drop his first album independently. For an independent album, Kid Ink performed well, as his album Up & Away debuted at #20 its first week on Billboard. His first single, "Time of Your Life" crushed YouTube with 23 million views.
Because of his success independently, this prompted many major labels to reach out to the LA artist, in hopes of signing him. Ultimately, Kid Ink signed to RCA Records in January of 2013. Then, Kid Ink proved he was worth every dollar, when he linked up with Chris Brown for his first single, "Show Me." The intoxicating record finds Brown crooning over the bouncy DJ Mustard produced track, and Kid Ink cajoling every girl to show him what they're ultimately made of. The record bolstered Kid Ink's credibility instantly as the single went platinum in a matter of months. This propelled the release of his first major label debut, In My Own Lane, which featured a slew of talented artists ranging from Elle Varner, Chris Brown, Tyga, Pusha T, Machine Gun Kelly, and more. Kid's exuberance mixed with his happy go lucky demeanor proved to be a fan favorite, as the critics instantly gushed over the album. His album debuted at number three on Billboard, selling 50,000 records its first week. Ink's ability to pen unforgettable melodies and deliver eye catching live performances are the reasons why he's one of music's rising stars.
On June 21, Kid Ink will perform at the "Pepsi Summer Solstice Concerts on Vevo" in a mystery MidWest location. Check Pepsi.com and Vevo to watch a live stream of the performance.