MAKJ – The Next Best Thing
August 01, 2014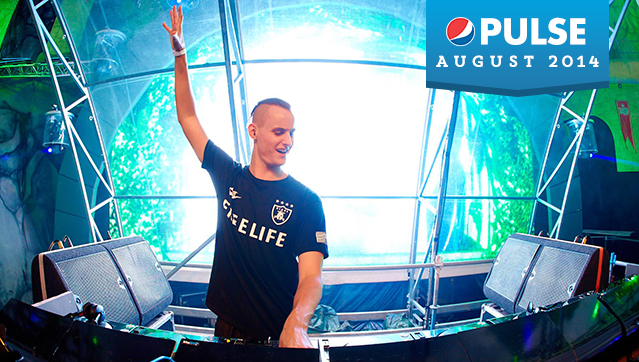 Hoe een racecar driver een dj werd… We hebben het over Mackenzie Johnson, oftewel MAKJ! De 24-jarige Amerikaan loopt pas net mee met de grote jongens in de electronic dance music (EDM) scene, maar lijkt 'the next best thing' te zijn.

MAKJ had een bijzondere jeugd. De reguliere middelbare school sloeg hij over om op hoog niveau te kunnen autoracen in China. Maar een groeispurt (hij is behoorlijk lang) werd het einde van zijn race carrière.
Chinese nachtclub
Zijn lengte kreeg hem wel een Chinese nachtclub binnen, waar hij zó onder de indruk was van de dj die daar stond te draaien en scratchen dat hij een nieuwe hobby ontdekte. Dj-apparatuur werd aangeschaft en het muziekavontuur begon.
Produceren
Op zijn 17de verhuisde hij terug naar The States en kwam zijn dj-carrière van de grond. Hij draaide in clubs, maar merkte op den duur dat als je het echt wilt maken in de EDM scene, je ook muziek moest produceren. Dus schreef hij zich in bij het ICON Collective, een productieschool in Los Angeles.
MAKJ ontmoette hier DJ AM (Adam Goldstein), die hem als mentor onder zijn hoede nam. De inmiddels overleden muzikant - die bijvoorbeeld bekend werd met rapgroep 'Crazy Town' - leerde MAKJ dingen als 'Don't be an asshole', 'work hard' en 'be respectful'.
Hardwell
Na het afronden van ICON Collective, scoort MAKJ een tijdje later zijn eerste hit. Samen met Hardwell maakt hij het nummer 'Countdown', dat in slechts drie dagen na de release de #1 positie op muzieksite Beatport bereikte.
De wereld rond
Mackenzie stond al twee keer op Ultra Music Festival Miami én op het hoofdpodium van TomorrowWorld in de VS. In de herfst van 2013 toerde hij met Bingo Players en Bassjackers en afgelopen voorjaar deed hij een eigen (uitverkochte) toer door zijn land.
Oh ja, hij is als dj ook kind aan huis bij de gerenommeerde club XS Nightclub in Las Vegas, waar ook Avicii en Zedd geen vreemden zijn.
MAKJ heeft een wekelijks terugkerende radioshow op BBC Radio 1 bij (radio-)dj Pete Tong en gaat daarnaast Europa door. En ja, ook Nederland komt weer voorbij, want op zaterdag 23 augustus staat hij op Mysteryland.
MAKJ gaat dan wellicht niet meer als een speer over het circuit; binnen de EDM scene heeft hij zijn gaspedaal gevonden!