James Hird returns to Essendon after suspension
August 24, 2014
via
Sydney Morning Herald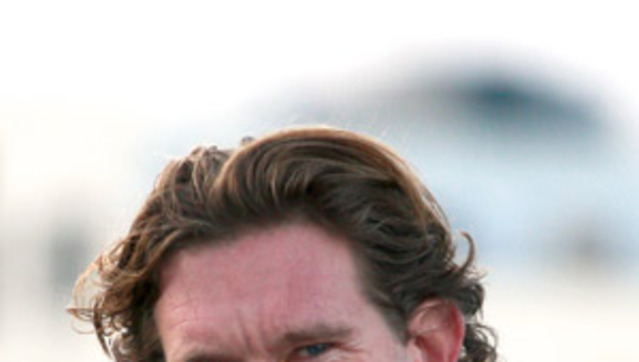 James Hird has returned to Essendon for the first time in 12 months as his AFL suspension ended on Monday morning, saying that he would like Mark Thompson, who is coaching the side in 2014, to stay on at the club in 2015.
With his suspension over, Hird arrived at work for his first day at Essendon in 12 months. At the time of his last formal involvement, the Bombers were based at Windy Hill, but arriving at the new club home of the True Value Solar Centre in Tullamarine Hird said that he was "excited to be back at the club".
A year to the day since his Essendon side was banned from the 2013 finals series, Hird arrived back at the club to help his temporary replacement prepare for Essendon's 2014 September campaign.
Speaking to media gathered outside the club, Hird said he wanted Thompson to stay on at Essendon next season.
"We'd all like Bomber to stay on, particularly, I'd like him to stay on - he is obviously a great coach, he's been terrific for the players this year and for the whole club this year," Hird said.
"It's his decision, but we've had a few chats and we'll sit down over time.
"It's not just his decision or my decision, it's also the club's decision … but everyone at Essendon would love him to stay."
Hird was suspended for his part in the governance failings at Essendon in 2012, the season in which the club subjected its players to a controversial supplements regime.
Essendon, with Thompson at the helm, is seeking to win its first final in a decade. The seventh-placed Bombers will likely face North Melbourne in an elimination final.
Essendon CEO Xavier Campbell reitrated on Monday morning that Hird's focus would be "exclusively on 2015".
He told gathered media that Hird would not have a matchday role in the coaches' box in 2014, but would be working with Neil Craig and Campbell himself on list management, reviewing footage from this season and preparing for next year.
Hird said he would be at the MCG to watch his side take on Carlton this weekend.
"I was there last week, I was there the week before and I'll be there on Saturday," Hird said.
Thompson recently told Fox Footy's AFL 360 program that media pressure and the threat of a distraction had deterred the club from giving Hird a more active role.
Thompson is not contracted at this point for 2015. With Hird set to reclaim the top gig, it is unclear whether the dual Geelong premiership coach will continue at the club, although chairman Paul Little stated his desire recently for Thompson to stay on.
A fortnight ago both Hird and the club were involved in a three-day Federal Court hearing in which both parties were seeking to prove that the Australian Sports Anti-Doping Authority acted outside its statutory powers in conducting a joint investigation with the AFL into the Bombers' 2012 activities.
Justice John Middleton's decision is yet to be handed down.