AFL Round 23: Collingwood v Hawthorn
August 29, 2014
via
The Age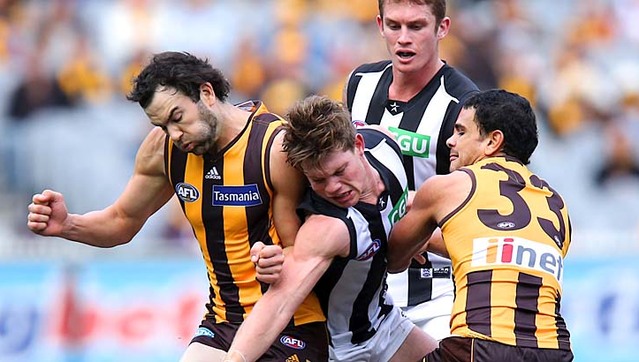 The equation is simple for Collingwood: the Magpies must defeat highly-regarded Hawthorn to have any hope of snatching a finals spot.
Good evening and welcome to Round 23. It's Collingwood v Hawthorn at the MCG. Is Collingwood any chance? Or will Hawthorn do a 'Port from last week' and show they are gearing up for the real stuff? The finals are so close you can smell them. And we've got all the action as it happens right here on Real Footy.
LATE CHANGES
Collingwood: Nil
Hawthorn: Bradley Hill (corked quad) replaced in the selected side by Billy Hartung

FINAL INTERCHANGES
Collingwood: Sam Dwyer, Marley Williams, Tony Armstrong
Substitute: Paul Seedsman
Hawthorn: Jonathon Ceglar, Liam Shiels, Angus Litherland
Substitute: Billy Hartung
Who will grab eighth spot? It's out of Richmond, Collingwood, West Coast and Adelaide. I reckon it's Adelaide or West Coast. What do you reckon? Have your say in the comments section.
Our past players, some in the jumpers of their halcyon days, are forming a guard of honour #gopies pic.twitter.com/9BANZ3lQTw

— Collingwood FC (@CollingwoodFC) August 29, 2014
The boys get their final message from the coach #gohawks #ALWAYS pic.twitter.com/LH264eZkcj

— Hawthorn FC (@HawthornFC) August 29, 2014
Jake Niall's take on How Hawthorn left Collingwood in the dust.
Play underway... free to Mitchell in the guts.
Jordan Lewis has marked inside 50. Hale was unattended at half-forward. Lewis fails to make the distance and Grundy marks.
First gamer Corey Gault has booted it on the full. Could have been a hero...
Q1 2 MINS PIES 0 HAWKS 1
Hawks get it back ... Burgoyne to Lewis to Langford. Langford misses to the left.