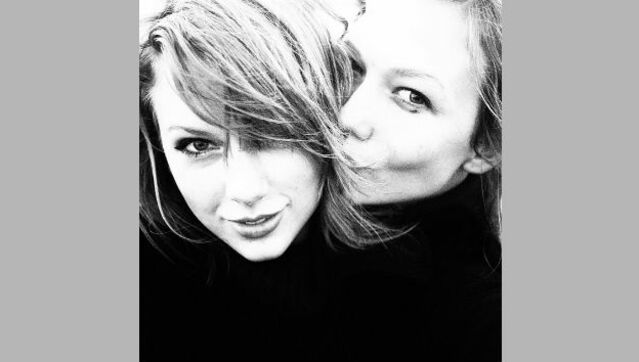 Image Courtesy Taylor Swift via Instagram
When
Taylor Swift
decides to hang out and relax, she picks some pretty interesting people to do it with.  Not long ago, she was shopping and going to the beach with
Lorde
, and now she's moved on to road tripping through California with Victoria's Secret supermodel
Karlie Kloss
.
"California here we come...right back where we started from...ROAD TRIP," wrote Taylor on Twitter Wednesday, and posted a photo of both she and Karlie sitting on top of a huge sign that reads "Pfeiffer Big Sur State Park."  Next came a photo of the two of them standing together in what looks like a Redwood Forest, looking up. The caption reads, "This forest situation."
Next came an Instagram shot of Karlie kissing Taylor on the side of the head, captioned, "Beach, forests, cliffs, Northern California, sand, flower picking. Best road trip ever."  Then, a photo of the two of them frolicking on a beach, with the caption, "On the way home."   Karlie, meanwhile, posted a photo of herself writing in the sand, "Karlie Hearts Taylor."
Last year, Taylor got to hang out with Karlie when both appeared on the Victoria's Secret Fashion Show TV special.
Copyright 2014 ABC News Radio