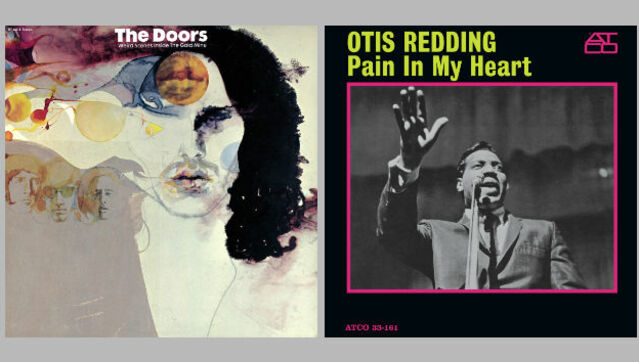 Rhino Entertainment Company
Vinyl discs from
The Doors
,
Otis Redding
and
Rick James
are among
a new series of special limited-edition releases
that will be available April 19 as part of the 2014 Record Store Day promotion.
The Doors' Record Store Day offering will be a reissue of the band's out-of-print 1972 compilation, Weird Scenes Inside the Gold Mine.  The two-LP set features translucent, amber-swirled colored vinyl.  Only 5,500 copies will be available around the world, with 3,000 being released in the U.S.  Each copy will be individually numbered.
The Otis Redding disc will be a 50th anniversary edition of the late soul legends' Pain in My Heart album.  The LP will be pressed on 180-gram vinyl, with a jacket featuring the release's original artwork and audio taken from the original mono recordings.  Three-thousand individually numbered copies will be released in the States, and 2,000 more will be available outside of the country.
The Rick James disc will be a 12-inch vinyl single boasting two previously unreleased tracks.  Side A will feature an extended M+M Productions mix of the late funk master's 1978 disco hit, "You and I," and side B will include a nearly 20-minute live rendition of "Fire and Desire," featuring the late Teena Marie and recorded in July 1981 in Long Beach, California.  A total of 2,500 numbered copies will be sold.
Other artists from this latest series of Record Store Day releases include The Ramones and Henry Mancini and His Orchestra.
A variety of labels and artists participate in the Record Store Day initiative by releasing limited-edition album reissues, new singles, and rare and unreleased materials that are available exclusively in independent music stores.  Visit RecordStoreDay.com for more information.
Copyright 2014 ABC News Radio