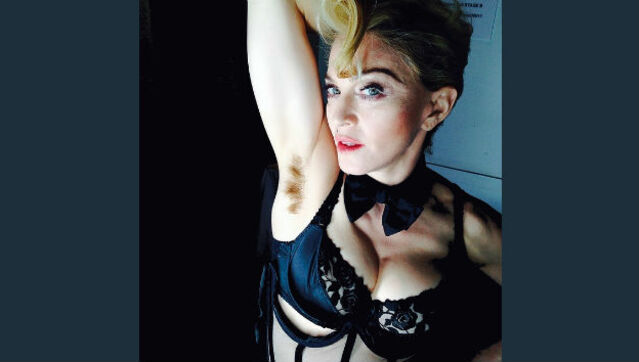 Image Courtesy Madonna via Instagram
Madonna
usually prefers to look forwards, not backwards, but on Friday, she took some time out
to acknowledge
the 25th anniversary of one of her most popular and acclaimed albums:
Like a Prayer.
First released on March 21, 1998, Like a Prayer was Madonna's fourth album, and featured a newly brunette Material Girl showing off a more introspective side.  The disc received rave reviews, and marked Madonna's transition from pop star to "artist," spinning off the hit title track, as well as "Express Yourself," "Keep It Together" and "Oh Father." 
On Facebook on Friday, Madonna posted a photo of herself from the Like a Prayer era and wrote, "25 yeArs later and I'm still praying!"  She added the hashtags "#revolutionoflove, "#artforfreedom" and "#rebelheart."
Those same three hashtags appeared on another photo that Madonna posted late on Thursday on Facebook and Instagram: It showed her posing in a black bra, with her hand behind her head, prominently displaying her extremely hairy armpit.  "Long hair...... Don't Care!!!!!!," was the caption.
Perhaps Madonna is trying to recapture her youth by showing her unshaven pits.  She told Harper's Bazaar magazine last year that when she was a teenager, she tried to be rebellious, not by drinking and smoking pot, but by not conforming to society's norms with her physical appearance. 
"I thought it was cooler to not shave my legs or under my arms.  I mean, why did God give us hair there anyways?  Why didn't guys have to shave there?  Why was it accepted in Europe but not in America?" she told Bazaar.  "I did the opposite of what all the other girls were doing, and I turned myself into a real man repeller.  I dared people to like me and my nonconformity."
Copyright 2014 ABC News Radio