Waratahs need to make smarter calls in Cape Town, says Kurtley Beale
March 31, 2014
via
Sydney Morning Herald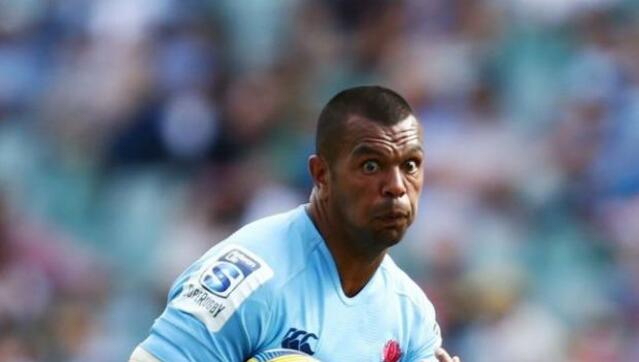 Durban: Kurtley Beale says it is time for the Waratahs' decision-makers to start making the tough calls.
After demonstrating their commitment to running rugby during the past five matches, with results at times stunning but also - most recently - ineffectual, Beale said he, five-eighth Bernard Foley and halfback Nick Phipps must make smarter decisions.
That means kicking when they need to, "punching the corners", instead of running into a wall of Stormers defenders in Cape Town this weekend.
"Although we want to play the ball and run and score tries all the time, we have to start backing our kicking game a lot more," Beale said.
"Not kicking the ball away for the sake of it, but having a strategy around kicking smart.
"If you look at the teams above us they are doing that really well, so we have our work cut out for us this week."
Beale had another tough night on Saturday, a game he likened to the side's 28-23 loss to the Brumbies a fortnight ago.
Coach Michael Cheika said the side's failure to secure their attacking rucks was the main culprit, but Beale said there were also times when he and Foley made poor decisions.
"I'm a bit guilty of that, because all I've been thinking about is trying to run, because that's my game, but if I can hold my feet back a bit and really assess what is going on in front of me then that will help me choose the right option," he said.
"Not saying that we want to go away from our running game ... but as decision-makers we have to really understand what's happening out there and adapt to certain situations.
"It comes back to being smarter. If we do have more players in the ruck [on attack], we might have to pin corners instead of trying to run two-against-five, which is how it felt."
Beale was also rocked by a late hit from Francois Steyn in the 24th minute of the brutal encounter, which left him with painful whiplash on Sunday.
"It was a physical game but with that particular incident I was caught in a bad position and it was blatantly late," he said.
"I've been in plenty of situations like that before when you take at least 15 to 20 seconds to feel right and move on.
He passed the mandatory pitchside concussion assessment test and was returned to play, but found it difficult to regain his rhythm.
"It rattled me a bit because I was starting to get in the rhythm of the game and then I went off. It was a bit frustrating because I had to start all over again.
"It was exactly how I felt after the Brumbies game, very stiff, very sore. You know you've played a tough game."
Beale said he felt confident he would take the field against the Stormers, but hoped his dual international team mate Israel Folau would be there too.
"It's always great to have someone of his calibre outside you, inside you, everywhere," he said.
"Just having his presence in a team is good, because it definitely picks up the standard of what we're all about.
"But I thought Rob Horne did an exceptional job there, defending in the front line, and Jono Lance as well."