Clubs across England commemorate Hillsborough anniversary
April 12, 2014
via
Goal.com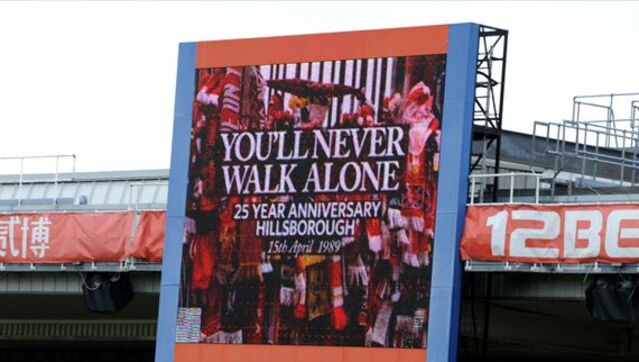 Clubs across England commemorated the 25th anniversary of the Hillsborough disaster with gestures of tribute at every ground on Saturday.

The tragedy, in which 96 Liverpool fans lost their lives at Sheffield Wednesday's stadium on April 15, 1989, was recognised with every Saturday match kicking off seven minutes later than originally scheduled.

The FA Cup match between the Reds and Nottingham Forest was halted at 15.06BST that day and, after a minute's silence at every game, Saturday's fixtures began seven minutes later than usual as a mark of respect.

The tribute was impeccably observed at every Premier League ground with the exception of the Stadium of Light, where isolated shouts led to boos before the minute's silence had finished.

Ceremonies will be most concentrated at Anfield, where Liverpool host Manchester City on Sunday. The club have planned mosaics in the stands during the minute's silence and there will be floral wreaths presented by City and Celtic representatives, as well as a commemorative patch on the Reds' kit for Sunday's game and all their remaining home matches this season.

At both FA Cup semi-finals at Wembley, participating teams and officials will wear black armbands bearing the number 96, while 96 seats will be set aside with a Liverpool scarf placed over each one.

In addition, some of the families of the Hillsborough victims will be in attendance at the Wigan - Arsenal semi-final by invitation of the Football Association.

In the Championship, Wednesday have dedicated the cover of their pre-match programme for their hosting of Blackburn Rovers to a memorial for the dead.
Copyright © 2014 Goal.com All rights reserved. Provided by Syndigate.info, an Albawaba.com company