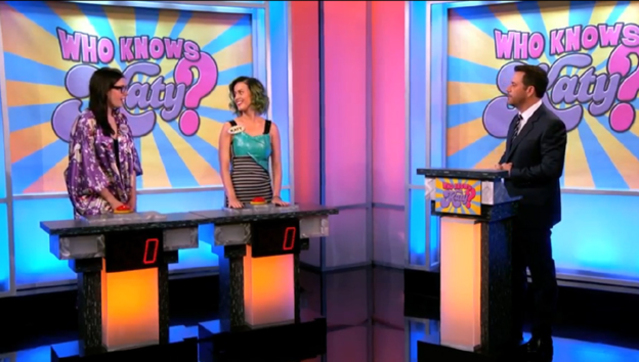 ABC
Katy Perry
shared info on her upcoming video for her single "Birthday" during an appearance on ABC's
Jimmy Kimmel Live!
on Monday night.
Katy revealed that she went undercover as five of the world's "worst birthday entertainers" for the clip. She explained, "I was sick of making...gorgeous music videos where I'm like sexual." Jimmy Kimmel quipped, "People are sick of that, yeah."
Some footage from Katy's undercover adventures aired on the show, including a scene in which she played an androgynous character, "Kriss the Clown," who's on parole and who inadvertently causes a car crash during a party.
The lyric video for "Birthday" debuted two weeks ago.
Katy told Jimmy she had a nice Easter Sunday, having spent it with her family. They took part in an Easter egg hunt, where she drew attention away from the Easter Bunny. She said the kids in attendance were taking pictures of the Easter Bunny when they spotted her and ran toward her, upsetting the bunny in the process.
Katy also discussed the inspiration for her new green hairdo. She said it's the result of her obsession with Tumblr: "I saw some really cute Japanese girl [on Tumblr] that had green-tipped hair, I brought it to the hairstylist and was like, 'Make me her.'"
Earlier on the show, Katy took part in a trivia competition called "Who Knows Katy?" in which she tested her knowledge of herself against a super-fan. She lost.
Copyright 2014 ABC News Radio