Steven Motlop set for first game of season for Geelong
April 29, 2014
via
The Age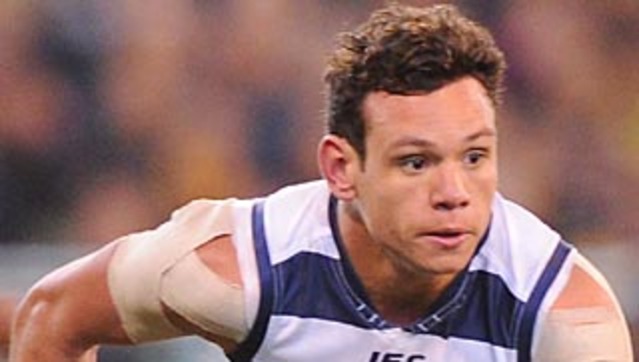 A Richmond team in need of a change of fortune is set to encounter a Geelong outfit not only smarting from its first defeat of 2014, but bolstered by the inclusion of Steven Motlop for his first game of the season and the return of ruckman Dawson Simpson.
Tom Hawkins is also set to be charging out of the MCG goalsqure on Sunday after being cleared of knee damage, although coach Chris Scott said on Tuesday a decision on whether Andrew Mackie has overcome his struggles with a quirky hamstring complaint would be left until the day before the game.
"Our guys come back when they're ready. Sometimes we're ultra-conservative, but to give him another two weeks would be ridiculous conservatism," Scott said of the prospect that Motlop could be given a third VFL game and his senior return from off-season knee surgery put on hold until after the bye.
"I guess I'm not giving him the absolute green light to play because it's not completely my decision and I don't make it in isolation on Tuesday or Wednesday, but the information we've got from our medical staff is he'll be well and truly in the frame this week."
Scott said Simpson's outlook was more positive than initially thought, and if he'd rolled his ankle during the round-five game against Hawthorn rather than at training two days before last weekend's game, he would most likely have recovered in time to play against Port Adelaide.
"He's looking like he's a legitimate chance of this week. Too early to say for sure but he hasn't been ruled out."
Of Hawkins, who copped a knock to his knee in Sunday's loss at Adelaide Oval, Scott said: "He seems to be (OK). It's not guaranteed at the moment, but all the indications are very good. 
"He got a little bit of a knock to that knee and it looked a bit awkward so there's no question we were worried, but all the indications are positive that he'll fine for this week."
While the Tigers' 66-point loss to Hawthorn last Sunday consigned them to a 2-4 start to another season of great expectation, Scott will brace for a strong rally from a team he expects to gather momentum at various stages in 2014.
"Even the sides that haven't got the results on the board this year, every single one of them have played really good footy at times. Most of what we would look at is what they've done when they've played really well.
"Obviously we're trying to exploit any weaknesses they might have, but we're really respectful of what Richmond can do. It's almost become a sport now of kicking the side that's down in a particular week. It changes so quickly.
"I'm sure Richmond will get a bit of momentum at times this year and play some really good footy. We've just to make sure that when they play good footy this weekend we're prepared and equipped to deal with that."