Pepsi ondersteunt dj talent!
May 01, 2014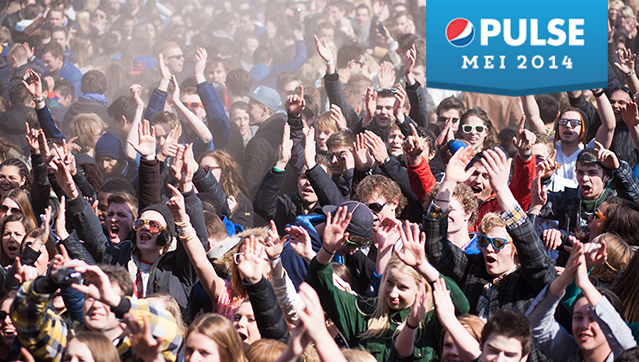 Nederland is de bakermat van de dance muziek en zet internationaal de toon met top dj's als Hardwell, Showtek en Martin Garrix. Achter deze wereldsterren melden zich alweer nieuwe dj talenten. Dancetour biedt deze hoogvliegers met de Pepsi DJ Clash een fantastische springplank.
Pepsi DJ Clash is een samenwerking tussen Dancetour, Pepsi, Amsterdam Dance Event (ADE) en dj/producer Lucien Foort. Het startte in 2008, als Dancetour DJ Contest, en heeft als doel om jong dj- en producertalent van elektronische muziek een platform te geven. Draaien voor 10.000 liefhebbers
Deelnemers krijgen de kans om voor 10.000 man te draaien, masterclasses van top dj's te volgen en om de studio in te duiken met een ervaren producer. Wie er hard voor wil werken, kan ver komen. Dannic is er het levende bewijs van, hij won de contest in 2009 en tegenwoordig laat hij wereldwijd het publiek van zijn dance-tunes genieten.
Pepsi DJ Clash in 5 facts
1. Facebook voorronde: De top-3 (meeste likes) gaan direct naar de finale. Dancetour geeft daarnaast één wildcard weg.
2. Elke Dancetour-stad heeft een eigen finale. Een jury bepaalt de winnaar en deze mag op Dancetour in zijn stad draaien.
3. De nummer één en twee van de finale gaan door naar een volgende ronde, de Semi Final: The Remix. Met twaalf steden geeft dit 24 deelnemers. In de Semi Final: The Remix krijgen de dj's een producer-opdracht van Lucien Foort. Op basis van votes en een jury worden de winnaars bekendgemaakt.
4. Middels een masterclass bij ADE, een producer clinic en een DJ clinic biedt Pepsi DJ Clash jonge DJ talenten een uniek platform om zichzelf te ontwikkelen.
5. Extra dikke prijzen! Draaien op Dancetour, een Dancetour Anthem uitbrengen, de studio in met Lucien Foort, jaar lang gratis Pepsi, Abelton Live en ADE Next kaarten 2014. En er volgt nog meer!
Nog meedoen?
Talenten uit Dordrecht, Arnhem, Breda en Roosendaal zijn inmiddels geselecteerd, hiervoor kun je je dus in 2015 opnieuw opgeven. Je kunt je nog wel inschrijven voor achtereenvolgens Zeeland (Goes), Limburg (Maastricht), Flevoland en Noord-Holland (Lelystad), Groningen en Friesland (Leeuwarden), Overijssel en Drenthe (Zwolle), regio Doetinchem, regio Tilburg en regio Apeldoorn.
Klik hier voor meer info over de Pepsi DJ Clash 2014!