¿QUÉ ES PEPSI BEATS OF THE BEAUTIFUL GAME?
May 15, 2014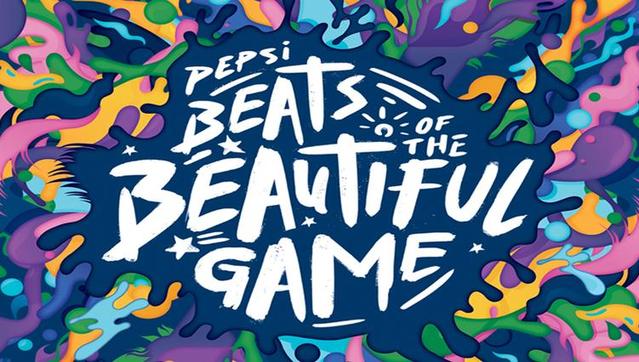 Canciones. Once cortometrajes. Millones de fanáticos de todo el mundo. Un juego apasionante.

Hoy hacemos historia. Para celebrar los paisajes, sonidos y momentos clave del fútbol, Pepsi presenta por primera vez su propio soundtrack visual. Nuestra historia en la música y el fútbol es inmensa, y en 2014 estamos preparados para compartir la pasión, cultura y el espíritu de juego que tanto nos emociona, con ustedes. Estamos orgullosos de presentar Pepsi Beats of the Beautiful Game.

La Música

Un grupo de músicos de todo el mundo fueron seleccionados para hacer parte de este soundtrack visual sin precedentes. Su talento atraviesa géneros, fronteras y distintos grados de fama. No se trata de cuántos éxitos han creado, cuántas personas conocen sus nombres o qué tan fácil fue encontrarlos. Los artistas de Pepsi Beats of the Beautiful Game comparten una característica particular: el impulso infinito que los conduce a alcanzar sus logros.
Ellos han creado once canciones, una combinación de tracks originales, emocionantes remixes y clásicos re-imaginados. Sus palabras, voces, manos y corazones tomaron fuerza del pulso del fútbol, y la música es reflejo de esto.
Conozcan a los músicos de Pepsi beats of the Beautiful Game: Kelly Rowland, Janelle Monáe, Don Omar, Rita Ora, R3hab, Eva Simons, Jetta, Santigold, Timbaland, Rachel Assil, Pearls Negras, Jolin Tsai Yl-ling and Hassan el Shafei.

Los Cortometrajes

Teniendo en mente el espíritu de la libertad de creación, entregamos solo dos herramientas a los cineastas de Pepsi Beats of the Beautiful Game al momento de producir sus 'filmtracks': Una canción y la pasión del fútbol. Lo que crearon con estos elementos fue una serie de destacados cortometrajes que capturan perfectamente las razones por las que amamos este juego. Historias de resiliencia, de arduas luchas, de alegres celebraciones y victorias merecidas, todas reunidas bajo un mismo techo: Pepsi Beats of the Beautiful Game.
Con un equipo invencible conformado por los más talentosos cineastas del mundo, Pepsi logró juntar el poder de la música con el dinamismo de los filmes para crear algo que jamás se había hecho. Tenemos el honor de presentarles a los directores de Pepsi Beats of the Beautiful Game: Spike Lee, Idris Elba, The Young Astronauts, Jessy Terrero, Diego Luna, Andy Morahan, The Kolton Brothers, Cine Favela, and Cai Yiqi.

El Juego

Como la mayor colaboración entre la música, el cine y el fútbol en la historia de las marcas, Pepsi Beats of the Beautiful Game, visualmente y auditivamente, logra capturar los vibrantes paisajes, los sonidos y las historias que unen a los fanáticos con el fútbol. Estamos aquí para cambiar las reglas. Para lograrlo, queremos hacerle un homenaje a este hermoso juego.
Las canciones y los films se estrenarán en exclusiva por Pepsi.com/THE GAME. El album completo de 11-tracks de Pepsi Beats of the Beautiful Game sera lanzado el 9 de junio a nivel internacional y el 10 de junio en Estados Unidos. Mira el tracklist a continuación y pre-ordena una copia del álbum en ITunes. Sígue a @Pepsi en Twitter utilizando el hashtag #FUTBOLNOW para enterarte de las noticias más actuales.
Pepsi Beats of the Beautiful Game
1. Janelle Monáe, "Heroes," con el filmtrack creado por The Young Astronauts
2. Don Omar, "Pura Vida," con el filmtrack creado por Jessy Terrero
3. Rita Ora, "I Will Never Let You Down (Switch Remix)" con el filmtrack creado por Diego Luna
4. R3hab feat. Eva Simons, "Unstoppable," con el filmtrack creado por Idris Elba
5. Jetta, "Crescendo"
6. Kelly Rowland, "The Game," con el filmtrack creado por Spike Lee
7. Santigold, "Kicking Down Doors," con el filmtrack creado por Andy Morahan
8. Timbaland junto a Rachel Assil, "Whoever We Are," con el filmtrack creado por The Kolton Brothers
9. Pearls Negras, "Guerreira," con el filmtrack creado por Cine Favela
10. Jolin Tsai Yl-ling, "Now is the Time," con el filmtrack creado por Cai Yiqi
11. Hassan el Shafei, "Ahlam Men Gedial"