September 21, 2013
via
Sydney Morning Herald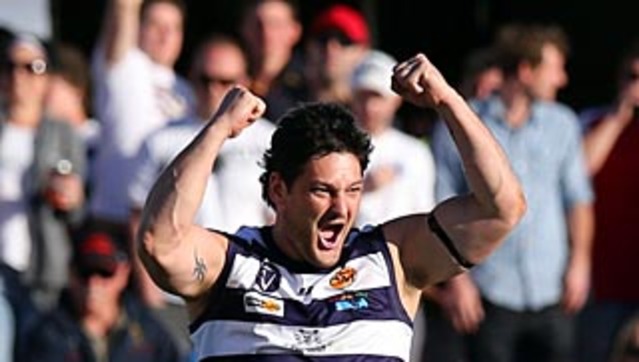 Supporters of Yarrawonga could be excused for being a bit ho-hum about Sunday's Ovens and Murray league grand final.
After all, it will be the club's fifth straight appearance in the big game.
And as in the previous four, the Pigeons will be taking on Albury.
But Yarrawonga president Glenn Brear is adamant that there are no signs of grand final fatigue.
For while the Pigeons nowadays boast a star-studded line-up, which includes two-time Coleman medallist Brendan Fevola and former Richmond players Kayne Pettifer, Steve McKee and Craig Ednie, the club has played the role of David rather than Goliath for most of its history.
''What you've got to remember is that Yarrawonga has been in the Ovens and Murray league since 1929,'' Brear said. ''It took us 30 years to win our first flag with Billy Stephen in '59, then we won one in '89. We also won it in '06 and last year. So we've only ever won four of them.''
Yarrawonga's current run of grand final appearances began when Ednie guided it into the 2009 decider.
That year the Pigeons were thrashed by 77 points, but Ednie led them back into the big game the following season. They lost again, but this time by just 10 points.
Ednie subsequently relinquished the coaching position, with Drew Barnes (playing) and Chris Kennedy (non-playing) taking over the role.
In 2011, Barnes and Kennedy, who remain at the helm, took Yarrawonga to its third straight grand final against Albury. The margin was narrower again (nine points), but the Pigeons went home empty-handed.
Desperate to end its run of outs, Yarrawonga stepped up its recruiting in the lead-up to last season.
The headline import was Fevola, who initially signed up to play only home games and finals.
Fevola's value to the club was made clear when a grand final-sized crowd turned up at Mulwala to see his first game. Fev put on a show that had everything, kicking seven goals and getting sent off.
During the rest of the season he continued to attract crowds big enough to bring a tear to the eye of GWS administrators.
Such was his drawing power, Myrtleford even paid him to play against it. Although Fevola helped Yarrawonga thrash the lowly Saints, the thousands of people that turned up ensured Myrtleford made a big return on its investment.
Despite being limited by a knee injury last September, Fevola still managed to boot 110 goals for the year. And he slotted five when Yarrawonga ended its run of disappointments by scoring a 12-point win over Albury in last year's grand final.
Not only has Fevola been a hit on the field, the one-time AFL bad boy has won many friends off it as well.
''He's doing some really good work within the town,'' Brear said. ''He comes up on a lot of Friday nights and umpires our Auskick games. He's an absolute beauty for that.
''We feel that while Brendan has been terrific for us, what we've been able to do for Brendan is an embarrassment to AFL football, really. They just pick them up and throw them out when they're finished. They don't put the time into them.
''Whereas when he comes to a place like this, we've shown some leadership to him and he's responding in a positive manner. And we think it's odds-on that he'll play here again next year.''
Fevola has played 15 games and booted 78 goals for the Pigeons this season, and the 32-year-old has been a match-winner during the finals.
He bagged seven in Yarrawonga's qualifying final victory over Lavington, then kicked eight in the Pigeons' victory over Albury in the second semi-final two weeks ago.
Pettifer has been Fevola's sidekick up forward, booting 61 goals in 18 games. For three games they were also joined by three-time Geelong premiership player Brad Ottens.
But Ottens' commitments as an assistant coach at Geelong, and his desire not to steal a place in the team from a more deserving local, means he has not taken up an invitation to play in today's match.
Grand final fever arrived in Yarrawonga on Friday when a host of footballers and netballers were part of a parade through the town.
Brear hopes Sunday's result will ensure a similarly jovial atmosphere.
''We're very excited,'' he said. ''It will be a huge party if the boys get the job done.''