1
BEHIND THE SCENES ON THE SET OF DON OMAR'S "PURA VIDA" SHORT FILM BY JESSY TERRERO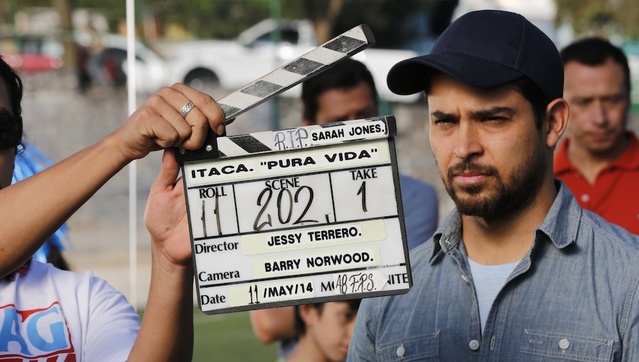 Wilmer Valderrama on set shooting the short film to accompany Don Omar's "Pura Vida," directed by Jessy Terrero.

Eleven songs. Eleven films. Millions of fans all over the world. One beautiful game. This is what makes up Pepsi Beats of the Beautiful Game.
Last week we released the first short film off the album: "Heroes" – the film set to Janelle Monáe's refreshed take on David Bowie's iconic "Heroes" – by a talented collective of creators called The Young Astronauts.
Next up: internationally-recognized reggaeton artist Don Omar and his track "Pura Vida" are set to life by director Jessy Terrero. Shot in Mexico City, they called on a few friends you might recognize. Check out an exclusive behind-the-scenes shot of actor Wilmer Valderrama on set above.
Don Omar's chart rising track "Pura Vida" is now available on iTunes. Jessy Terrero captures the song's invigorating spirit in his football-themed short film sharing a coach's unconventional technique for pulling a team together.
Pepsi Beats of the Beautiful Game showcases an eclectic mix of rising and celebrated musical artists from around the world including Kelly Rowland, Janelle Monáe, Rita Ora, Don Omar, Santigold, Timbaland and Jetta alongside regional favorites Pearls Negras (Brazil), Jolin Tsai (Taiwan) and Hassan El Shafei (Egypt). These artists' songs serve as the inspiration for 11 short films by dynamic directors, including Spike Lee, Jessy Terrero, Diego Luna, Andy Morahan and The Kolton Brothers in addition to Idris Elba.

Each week, Pepsi will premiere songs off the album as singles on iTunes, with accompanying short films free to view the same day on www.pepsi.com/thegame, as well as the artists' YouTube or Vevo channels.
The complete 11-track Pepsi Beats of the Beautiful Game album will be released June 9th internationally and June 10th in the U.S. Pre-order a copy of the album on iTunes and follow @Pepsi on Twitter using the hashtag #FUTBOLNOW for the most up-to-date news.