Pepsi Beats of the Beautiful Game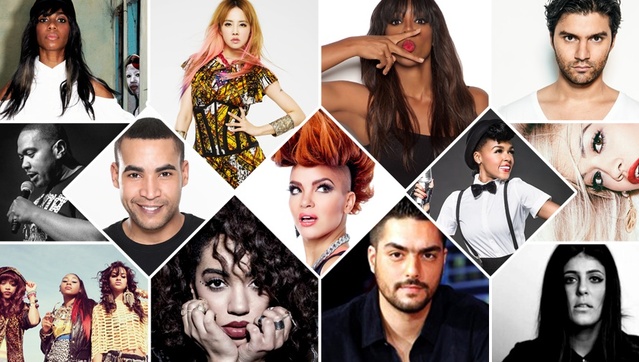 Eleven songs. Seven films. Millions of fans all over the world. One beautiful game.
This year we make history. In celebration of the sights, sounds and defining moments of the sport of football, Pepsi presents its first-ever visual soundtrack. Our allegiance to both music and football is vast, and in 2014 we are ready to share our passion, our culture and the spirit of the game we love with you. We are proud to present Pepsi Beats of the Beautiful Game.
The Music
A group of musicians from all over the world were selected to be a part of this unprecedented visual soundtrack. Their talents span genres, borders, and degrees of fame. It wasn't about how many hits they made, how many people knew their names, or how easy it was to find them. The artists who contributed music to Pepsi Beats of the Beautiful Game share one defining trait: the never ending drive to achieve their goals. They created eleven songs, a combination of original tracks, exhilarating remixes and reimagined classics. Their words, voices, hands and hearts drew strength from the pulse of the game of football, and the resulting music is nothing short of time-stopping. Meet the musicians of Pepsi Beats of the Beautiful Game: Kelly Rowland, Janelle Monáe, Don Omar, Rita Ora, R3hab, Eva Simons, Jetta, Santigold, Timbaland, Rachel Assil, Pearls Negras, Jolin Tsai Yl-ling and Hassan el Shafei.
The Films
In the spirit of creative freedom, Pepsi Beats of the Beautiful Game film directors were given two tools when they set out to make their short films: one song, and the infinite passion of football. What they created with those tools is a series of remarkable short films that capture the moments within the game that make it what we truly love. Tales of resilience, arduous struggle, joyous celebration and triumphant victory come together under one unifying house, Pepsi Beats of the Beautiful Game. With an unbeatable team of the most talented filmmakers on earth, Pepsi matched the power of music with the dynamism of film to create something that's never been done before. We are honored to present the participating directors of Pepsi Beats of the Beautiful Game: Spike Lee, Idris Elba, The Young Astronauts, Jessy Terrero, Diego Luna, The Kolton Brothers, and Cine Favela.
The Game
As the largest music, film and football collaboration in the brand's history, Pepsi Beats of the Beautiful Game audibly and visually captures the vibrant sights, sounds and stories that unite fans with the game of football. We're here to change the rules. To do so, we honor the beautiful game.
Singles and films will premiere exclusively on Pepsi.com/THEGAME. The complete 11-track Pepsi Beats of the Beautiful Game album is available for purchase on iTunes. Follow us on Twitter at Twitter.com/Pepsi using the hashtag #FUTBOLNOW for the most up-to-date news.
Pepsi Beats of the Beautiful Game
1. Janelle Monáe, "Heroes," short film directed by The Young Astronauts
2. Don Omar, "Pura Vida," short film directed by Jessy Terrero
3. Rita Ora, "I Will Never Let You Down (Switch Remix)," short film directed by Diego Luna
4. R3hab feat. Eva Simons, "Unstoppable," short film directed by Idris Elba
5. Jetta, "Crescendo"
6. Kelly Rowland, "The Game," short film directed by Spike Lee
7. Santigold, "Kicking Down Doors"
8. Timbaland starring Rachel Assil, "Whoever We Are," short film directed by The Kolton Brothers
9. Pearls Negras, "Guerreira," short film directed by Cine Favela
10. Jolin Tsai Yl-ling, "Now is the Time"
11. Hassan el Shafei, "Ahlam Men Gedial"