Twenty20 for over 30s only? Good idea, says Marsh
October 24, 2013
via
The Age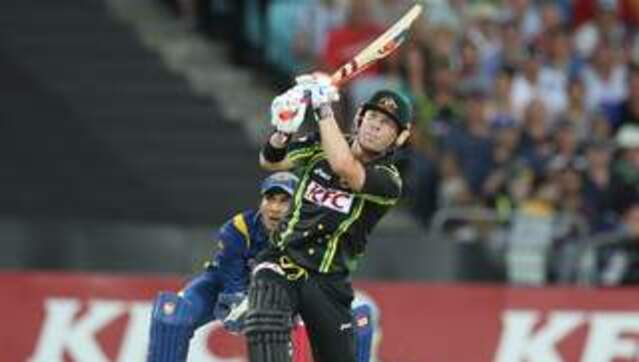 National selector Rod Marsh has floated a radical solution to Australia's batting decline - restrict Twenty20 to cricketers over the age of 30.
As England travels to Australia seeking a fourth consecutive Ashes victory, and as the selectors scour the country for a No.6 batsman with precious few heavy-scoring first-class cricketers to choose from, Marsh put forward the idea during a panel discussion that followed the 2013 Bradman Oration, delivered by former England captain and psychoanalyst Mike Brearley.
"A wise man said to me not that long ago that you shouldn't be allowed to play Twenty20 cricket until you're 30," said Marsh. "And if you just stop and think about that, I don't think that's a bad solution. Maybe it should be the topping on the cake after your career, after you've fought your guts out for your country, after you've given everything to the real form of the game, then you get your rewards by playing the short form of the game. I'm not saying I agree with it necessarily, but I'm not saying I disagree with it. In fact I'm sitting on the fence."
Retired Test batsman Mike Hussey is an example of a cricketer who developed his game with years of first-class toil in the pre-T20 era but then became one of the country's most adaptable players, excelling in all three formats.
Modern batsmen increasingly find their way onto Big Bash lists and seek lucrative deals in foreign T20 leagues before they have established themselves in the Sheffield Shield. Still, India has kept producing quality batsmen such as Virat Kohli and Sikhar Dhawan despite being at the centre of the T20 revolution.
Marsh's fellow panellist Greg Chappell, Cricket Australia's national talent manager, said it had become much more difficult to develop the skills to succeed in all the formats.
"It's a heck of a challenge," Chappell said. "The modern cricketer is challenged more than any other generation before with the different formats and the adaptability required to go across the formats. I think it will be very hard for most cricketers to play all three formats. It is a real challenge for young cricketers to try to develop their game to be chopping and changing so much and playing so much T20 cricket early on. What it requires to be a good hitter is very different to what it requires to be a good batter."
Brearley, an old adversary of Marsh who masterminded England's 1981 Ashes triumph, believes the proliferation of support staff and the rise of computer analysis has complicated the jobs of modern captains and coaches.
"The difficulty of having all these people around the dressing room, all of whom have got to do something, or be seen to do something, and for a captain and coach to manage that lot as well as the team seems to me a great difficulty," he said.