Muscat discovers it's tough at the top
November 17, 2013
via
The Age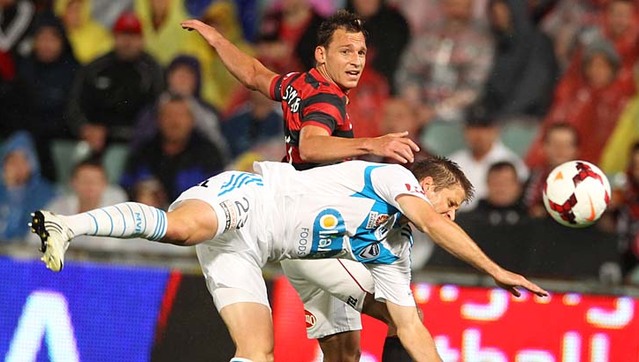 Two trips to Sydney, two vastly different performances, but the same outcome. Zero points.
Kevin Muscat is finding out the hard way the realities of coaching: sometimes you play poorly and get the result you deserve, but sometimes you play well and don't get the outcome you merit.
It's been a crash course for the rookie coach, but one he will surely learn rapidly from.
In round five, against Sydney FC at Allianz Stadium, Melbourne Victory played as if it was part of a slapstick comedy duo, although in the end it was Victory that ended up with the custard pie in the face as the Sky Blues pulled off an improbable 3-2 win after playing with only 10 men for an hour.
Seven days later it was a much more serious affair, as it inevitably is when Tony Popovic's Western Sydney Wanderers are setting the questions at their full-to-the-brim "Wanderland" stadium in Parramatta. There are no soft touches, no gimmes, no easy balls out west.
If the round five game was physical comedy, the round six encounter was a classic hard-boiled thriller with the denouement in doubt until the final stages. Only Labinot Haliti's introduction from the subs' bench to set up Mark Bridge for the late winner could separate the teams in what had been an absorbing encounter between two sides with very different game styles.
The win keeps Western Sydney at the business end of proceedings and the loss sends Victory into mid table. But Muscat, on the evidence of this weekend's game, should not have too many concerns.
Western Sydney has rapidly established for itself a reputation, rightfully, as the hardest team in the league to beat, so to take the game to them on their own turf for the majority of the match, have the bulk of possession and go down narrowly is a decent performance.
The match is a failure if only a purely actuarial analysis of soccer is taken – Victory went home empty-handed while the Wanderers took the three points.
But Muscat will be able to take plenty of other positives from a showing that illustrated the principles instilled in this side by Ange Postecoglou remain deeply embedded.
Muscat was, however, right to admit how fine the line can be between success and failure when the leading sides meet each other and how fate has a way of getting its own back on you if you don't take your chances when they come.
"I am disappointed to go away with nothing. We had a very good first half but you are always thinking in the back of your mind that you might pay the price, as we were on top of them for long periods in that first half and playing in their half, just on the edge of the box," he reflected post-match.
Nevertheless Muscat got most things right. His team played some slick passing football, Connor Pain once again looked lively and dangerous, Mitch Nichols and James Troisi are developing an understanding and the defence was tight for most of the night. They were undone by one slick attack, and their own failure to put away opportunities, particularly one gilt-edged chance that fell to Archie Thompson in the first half.
With one win and two losses on his CV after three games it's not the start to his coaching career Muscat would have wanted.
But Victory has a perfect opportunity to get back on track on Saturday night at AAMI Park against an Adelaide team still getting used to the new style demanded by its Spanish coach, Josep Gombau. It can't afford not to if it doesn't want to concede too much of a start to the league's early pace-setters, but it will be strengthened by the return from international duty of Mark Milligan and Kiwi Kosta Barbarouses.