The story behind the great Ashes turnaround
December 08, 2013
via
The Age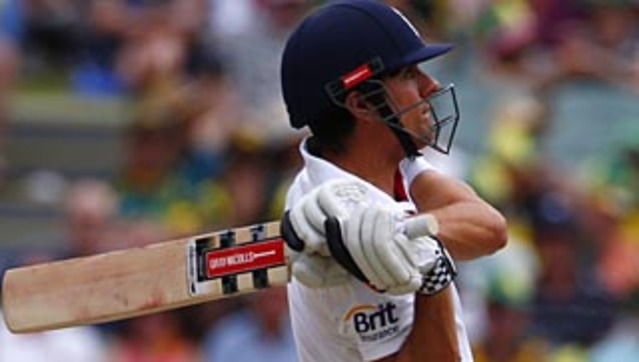 COOK'S CONCERNS
Alastair Cook's struggles at the top of the order have put England under pressure from the start. As captain against Australia, Cook has made 359 runs at 25.64. That's a far cry from the 766 runs at 176 that made him man of the series in Australia three summers ago. He doesn't like left-arm quicks - they've got him out 12 times this year - and none causes more problems than Mitchell Johnson. His second-innings dismissal in Adelaide, hooking his first bouncer from Johnson to fine leg, accentuated his problems as England's grip on the urn loosens.
CLARKE LEADS FROM FRONT
Like Cook, Michael Clarke plays his 100th Test in Perth, but the contrast could not be more pronounced. The Australian captain overcame a personal hurdle in Brisbane by conquering Stuart Broad's short ball to make 113, and followed up with a commanding 148 in Adelaide. He and David Warner are the leading runscorers in the series, averaging 95 and 71 respectively.
LITTLE MISTAKES, BIG CONSEQUENCES
Did Michael Carberry drop the Ashes? That's probably a harsh call, given England let a dozen chances slip in the field during Australia's first innings in Adelaide. Still, the grassed catch at point with Brad Haddin on five towards the end of a long day in the field will go down as a defining moment in the series. England's success under coach Andy Flower has been based on attention to detail, but standards seem to have slipped. Ben Stokes committed the worst fast bowler's crime on debut, his no ball costing the wicket of Haddin on 51.
Dropped catches cost England 286 runs and Carberry, usually an excellent fielder, missed a run-out attempt on the second morning.
THE MITCH EFFECT
Mitchell Johnson's 16 wickets at 8.93 in the series so far only tell part of the story. His raw pace has scrambled the England batsmen's decision-making. In the last hour of day two, there was a direct correlation between Joe Root being struck in the chest by Johnson at 148km/h and almost running out Carberry before stumps.
JIMMY RIDDLE
England's two best bowlers, Jimmy Anderson and Graeme Swann, have taken just nine wickets between them for the series. Since the completion of England's 2010-11 Ashes triumph, Anderson and Swann have bowled more balls than anyone in the world in Test cricket, and it shows. Anderson faded in England after taking 10 wickets in the first Test, managing 12 for the remainder of the series. Swann, England's best spinner of the past 30 years, was a match-winner at home but has been outbowled by Australia's Nathan Lyon here.
TALE OF TWO KEEPERS
Australia and England both have experienced glovemen capable of making important, quick runs at No. 7. While Brad Haddin has been inspirational with the bat in both Tests, with a series average of 88, Matt Prior (four runs in three innings before Sunday) is the emblem of England's decline. Prior has described himself as being part of the engine room, but with just one scoring shot in the series until the second innings in Adelaide, he has become a walking wicket instead. Lyon got him with extra bounce in Brisbane but in the previous series the quicks stitched him up outside off stump, his favourite scoring region. Haddin, with scores of 94 and 118, has starred in game-changing partnerships in both Tests.
STRENGTH THROUGH STABILITY
While England was rocked by the departure of Jonathan Trott after the first Test, forcing a reshuffle of the team, Clarke had the rare luxury of announcing an unchanged team for the first time in 12 months. The selectors have decided the rebuild can wait - with two 36-year-olds in the top seven and Peter Siddle the only fast bowler under 30. Having used 17 different players in England, none of whom batted in the same position for the whole series, selectors have put their faith in this group.
TALL TAILS
Even during heavy series losses in India and England, Australia could depend on runs from the lower order. And England's stubborn tail in the fourth Ashes Test in Durham during the winter had a lot to do with that win. But so far in this series, none of the England bowlers has reached 50, while Johnson and Ryan Harris have contributed important runs for Australia. The home side's bottom four have made 203, while England's has barely offered a yelp.