Shane Watson shines with Michael Carberry wicket, but strains groin in Boxing Day Test
December 26, 2013
via
The Age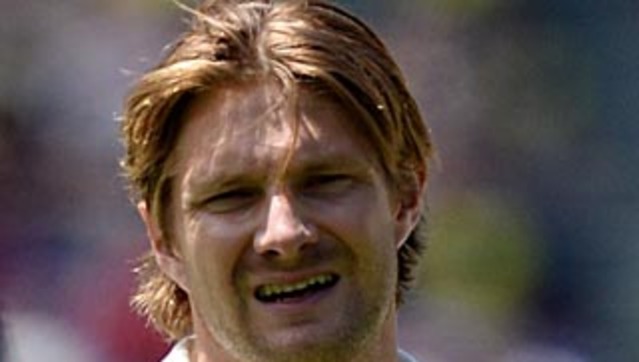 Grinning one moment and grimacing the next, Shane Watson has shown what Australia will miss if he can't fill the all-rounder's role for the rest of the Ashes.
Watson produced one of the best balls of the series to dismiss England opener Michael Carberry, who shouldered arms as the ball hooped in and clipped the top of his stumps.
But Watson's jubilation was replaced by a familiar, pained expression when he pulled up in his delivery stride during his seventh over. Captain Michael Clarke ran from the slips to confer with the all-rounder and he walked slowly from the field for medical treatment on a sore groin. He returned in the final session and resumed his position at first slip, alongside Clarke.
But it was unclear whether he would be able to fill his customary all-rounder's role in this game or in the series finale at the SCG.
''I don't know, but the fact he got back out on the park was pretty good,'' fast bowler Ryan Harris said. ''Whether or not he bowls again, I'm not sure. They will assess that tonight I guess, but the fact he got back out there was a good sign.''
Watson found a measure of redemption with his fourth Test century in Perth, and earned praise from Clarke for his selfless batting. But his work as a fifth bowler, since a short-lived stint as a specialist batsman during this year's ill-fated India tour, has been crucial both in drying up the runs and breaking partnerships.
He did both on Boxing Day, delivering a beautiful inswinger from around the wicket to condemn Carberry to another unconverted start. The England opener made 38, and has just one half-century from the series so far.
Watson's stifling bowling helped restrict England's scoring to a plodding 2.5 an over to tea, and the all-rounder had 1-11 from his 6.4 overs when he left the field.
He is playing his 50th Test at the MCG, a significant milestone for a cricketer who made his debut against Pakistan way back in 2005, and has rarely enjoyed an injury-free summer since.
He broke down with a calf injury during last year's Boxing Day Test against Sri Lanka after bowling 47 overs in the previous match in Hobart. On that occasion he missed the following Test in Sydney.
Although his preparation for this Test series was interrupted by a hamstring strain, he has actually recovered admirably from niggles this year, including groin trouble during the Ashes in England.
It helped that he was able to ease his way into the Ashes as Australia's quicks made short work of England in Brisbane.
With a three-day break before the Sydney Test, then a one-day series and a tour of South Africa, Australia is likely to be cautious.
And if he can't produce his usual ''dry spells'' for the rest of the Boxing Day Test, the frontline quicks will have to pick up the slack. Harris, who has been a warrior in Ashes contests this year and shrugged off his knee problems to bowl superbly on Boxing Day, could struggle to back up for Sydney.
The next paceman in line is Doug Bollinger, who will play a Big Bash game for the Hobart Hurricanes on Saturday night before rejoining the Test squad on Sunday.
If Watson's groin trouble turns out to be more serious, the selectors will be confronted with their first quandary of the summer after fielding an unchanged XI for four Tests in a row for the first time since 2004-05. They would have to decide whether to bring in bowling all-rounder James Faulkner or a No. 3 batsman such as Phillip Hughes or Alex Doolan.