Special deliveries that kept England on run
December 26, 2013
via
Sydney Morning Herald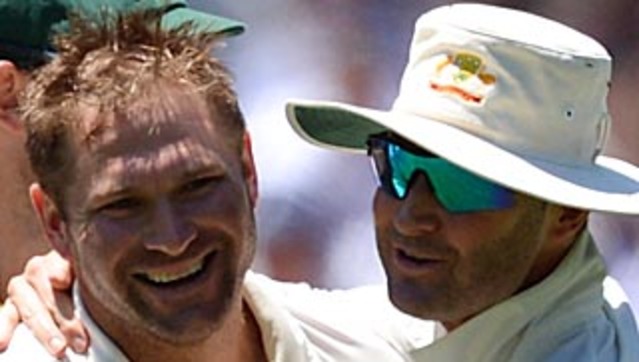 The best of Australia's fast-bowling attack is great, and was crucial in it reclaiming the Ashes with two Tests to spare. But the worst of the attack has been similarly significant in stymieing England's attempts to strike back in the series.
When England captain Alastair Cook was digesting his team's series loss last week in Perth, he admitted what had surprised him about Mitchell Johnson was not that he took wickets regularly; it was the significant reduction in the number of loose deliveries, the type England profited from in the successful 2009 and 2010-11 series.
In that scenario, whatever the Australian bowler was doing at the other end, their threat was diminished by Johnson releasing that pressure.
The first 40 minutes of the fourth Test was a throwback to the days of old Mitch. While Ryan Harris toiled relentlessly from one end, Johnson and then even Peter Siddle allowed the batsmen to prosper. By the ninth over, 23 of England's 28 runs had come in the four overs from the Southern Stand end, where Johnson and Siddle operated.
Captain Michael Clarke's decision to call on spinner Nathan Lyon in just the 10th over effectively undermined his own decision to bowl first after winning the toss. Had Siddle and Johnson not recovered from their expensive opening spells it could have led to Clarke's toss decision becoming an infamous one, like Ricky Ponting's at Edgbaston and Nasser Hussain's at the Gabba. That it finished as a mere footnote on the day's play was partly thanks to those seamers who let him down initially.
England's long wait for its first century opening stand since dispensing with Nick Compton on the eve of the winter Ashes series looked like it may be about to end, given how assured Cook and Michael Carberry looked in taking the team to 0-44 in the first hour.
But they did not even get to the half-century mark, as Cook chased a wide delivery on 27 - bang on his mediocre average against Australia when his mammoth 2010-11 series is excluded.
Nevertheless, England had cause to go to lunch optimistic when an lbw decision review system challenge against Joe Root failed, because the delivery from Harris was not predicted to hit enough of off-stump to overrule umpire Aleem Dar's decision.
Earlier in the series, encouraging sessions with the bat by England had been undermined by a late wicket or wickets; at least this time 1-71 was a decent start after being sent in.
That Carberry has been England's most consistent batsman in the series is generally an indication of praise. But one area in which it is not is his trait of getting out just as he seemed set to thrive. He reached 35 for the fifth time in seven attempts but was gone at 38, after leaving a Shane Watson delivery he assumed would pass safely beyond his off-stump. With only one half-century from those starts, and a 60 at that, it is undermining his bid to remain in the team.
His position is not dissimilar to Chris Rogers' for Australia, except that Australian selectors have the luxury of being able to fall back on continuity because they're managing a winning team.
Australia's bowling options diminished in the second session when Shane Watson limped off the ground due to groin soreness, which made it even more important for Johnson and Siddle to improve from their underwhelming starts.
Neither disappointed Clarke. Even though there was not another breakthrough between them until the second new ball, each comfortably conceded fewer than three runs an over to ensure that even though England was occupying the crease it was getting little reward for it. On spells either side of tea, Siddle conceded only eight runs from 10 overs, six of them maidens.
Kevin Pietersen's mettle for Test cricket was questioned by retired batting great Geoffrey Boycott. He would have had even more ammunition had Pietersen's hook, on six, not been taken over the fine-leg boundary rope by substitute fielder Nathan Coulter-Nile. The usually brash Pietersen did not take that reprieve lightly, adding another 61 runs to go to stumps unbeaten on 67 - his highest score since his third Test century in the winter series.
In the process he overtook his critic Boycott just before stumps to move into fourth place among England's leading Test run-scorers, with 8119 runs.
The benefit of Pietersen showing such uncharacteristic restraint was lessened by the teammates who fell around him. Harris deserved most credit for that, luring right-handers Joe Root and Ian Bell to nurdle outside their off-stump and edge behind. Even with those departures, England still boasted Pietersen and its century-maker from Perth, Ben Stokes, at the crease. Even with a subdued scoring rate, the concession of only four wickets after being sent in would have been something for England's players and hierarchy to hang their hat on, and to irritate Australia. Clarke deserved credit for thwarting that.
Given Harris' success from the Members' end of the MCG in his first four spells, he was an obvious choice to stay there with the second new ball. But the captain risked disrupting his burly quick's momentum by giving Johnson an opportunity at that end - given his improved performance from there with the old ball - forcing Harris to the other.
With the resulting new-ball spell, Johnson justified his captain's faith by removing Stokes and new wicketkeeper Jonny Bairstow cheaply. The left-armer almost had a third victim, Tim Bresnan, as his fend from a throat-bound bouncer floated just wide of leg slip.
Even without those two late wickets, Johnson's record for the day would have been three runs an over from his 20 overs - well within what Australian players and coaches were prepared to concede earlier in his career on the days he was short of his best.
While his 2-59 was not a patch on Harris' 2-32 from the same workload, it was an example of how well Australia's bowlers are working as a team - and how England, which finished at 6-226, is being hurt by that.