Artista de la Semana: Tyler Glenn de Neon Trees
October 28, 2014
via
Pepsi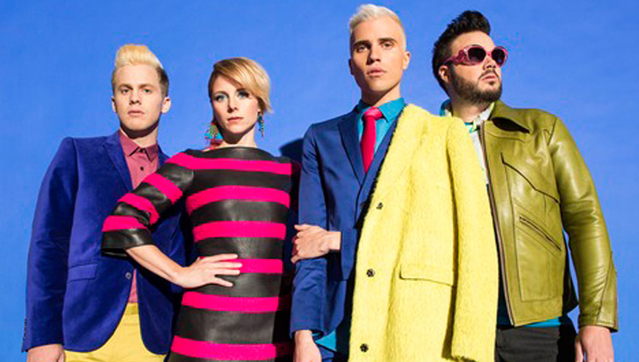 You might not know Neon Trees by name, but flashback to 2009 and their contagious track "Animal" was dominating the air waves. With two double-platinum singles under their belt, the band has definitely mastered their unique rock/new-wave pop sound. Turning out tracks that are impossible not to dance to, Neon Trees make music that young and rising groups like The Chainsmokers and ASTR love to remix. Both tried their hands at remixing Neon Trees latest hit "Sleeping With A Friend." They're not the only ones who liked it, the video has more than 4 million views on YouTube. In that video, like most public appearances, the band is sporting hip, neon garb. Sharing a passion for all that is bold and style-forward, they spent time on the road with famous rockers Duran Duran and The Killers. They might look like born rockstars, but band members, Tyler Glenn, Chris Allen, Branden Campbell, and Elaine Bradley all got together in the relatively unknown city of Provo, Utah.
Neon Trees released their latest album, Pop Psychology, via Mercury this April. We had the chance to chat with lead vocalist, Tyler Glenn, about the group's unique beginnings, the music scene out in Provo (it's probably bigger than you think,) and his proudest moments with the band.
How did Neon Trees come to be?
Chris and I were neighbors in Southern California, and we started playing together, and then he moved to Provo, Utah and we ended up meeting the rest of the band there, around 2005. And started the band there and have been going ever since.
What's the music scene like in Provo? 
When I moved there the biggest band that was from that area was The Used, but since then there've been three or four bands signed. We kind of broke Provo onto the bigger scene. And then Imagine Dragons also started in Provo because they were all going to college there. It's kind of this secret area where they can play, and get really cool fan bases and then go on to do other things.
How did you get the name for your band Neon Trees?

I was just kind of a prankster and jokester, and didn't take too much seriously. And me and my friends would hang out at In-N-Out Burger, which is a Southern California burger joint. But where I lived, in a town Temecula, they had a really old In-N-Out that had these neon, palm tree lights inside the restaurant. I thought neon palm trees sounded like a cool band name. When it came up a few years later to name the band, I brought that up and we shortened it down to Neon Trees, and that's how it is. So we're kind of a fast-food band.
Can you tell me about your latest album with Neon Trees, Pop Psychology? Has your sound changed a lot?
Yeah, I think we sound like Neon Trees, I just think it sounds more cohesive and maybe just a little bigger.  There are songs that sound like they could've been on the first record but they're just produced a little bit differently. This record is really, really fun and I love that there are some deep thematic elements at the heart of it. A lot of the songs are about identity, crisis, and also about finding love in the modern age and how hard it's become.
A lot the songs touch on personal subjects, so what was the recording and writing process like?
Writing it was really fun, and we kind of took a lot time on this record because we didn't really announce that we were making an album to our fans, and there was no press release or anything. So we did it till we felt like it was done, and then we gave it to the label and they put it out. I think by the end I realized there were a lot of songs about specific things that I wanted to talk about. And I want these songs to reflect where am I now versus where I was, and it just led me to being really honest about the record with everyone.
What was the process behind remix EP for "Sleeping With a Friend?"

I would just get sent remixes from different artists, and I think "Sleeping with a Friend" was the first song that actually sounded like it was made to be remixed. It already sort of had a dancey quality to it, so I knew someone could knock it out of the park. My favorite one, was actually by a group called ASTR, it's my favorite remix.
So what type of music have you been listening to lately?
I buy music every week and I make playlists. My favorite band right now is either Twin Shadow or Future Islands–those two bands and they're pretty new and current. And then I really like listening to a lot of older music. Since my life is so loud on tour, I like to listen to a lot of quieter stuff too, so I listen to a lot of Ryan Adams. It's nice to just unwind to.
When did you start singing?
I was four-years-old. I would write songs, and sing in community theatre, church, stuff like that.
So I've also noticed that you have a really awesome sense of style. What are some of your biggest fashion inspirations?

I've loved the '70s and '80s new wave and punk movement–I love their use of color and their use of sort of anything goes, but it all made sense at the same time. I like that. For this record a lot was more inspired by the '80s era of Bowie where he wore those really colorful suits, and that was the statement. And right now I like that sort of tailored look, but still really loud.
If you could live anywhere in the world for the next year, where would it be and why?
I like living in a another country because I think it makes me appreciate America, but I also really am in love with Australia. So I think it would be really fun to live in Sydney or Melbourne. Because if it's only for year I could totally do it. It's so far away from everything but if it was for temporary, I think it would be really fun.
Okay, this a fun question–if you could star in any TV or reality TV show, what would it be and why?
I've honestly thought that if we had our own reality show it would be hilarious and very dramatic, and we would probably get into trouble a lot because of what we say behind closed doors. But I honestly think if there was a Neon Trees show, it would be a hit. So putting that out there.
So your band has had huge success over the years, what do think has been your proudest moment as a band so far?
I don't think we have one moment yet, because we've been a band that finds that really loves those tiny victories where we find out that a song is doing really well, and then we'll have a sold out show, and then we'll be on a late night talk show a couple weeks later. Those continued little victories are the things that make us proud. I don't know if we have one defining moment yet, which is cool. I think there's still stuff to do, and that gives me drive.
What advice can you share to encourage people to open up and be true to themselves?
My advice is to not ever feel pressured by anyone else to be yourself, but to find the courage within yourself to do it.
That's great advice! If you could chose your last meal, what would you eat and why?
I eat pretty healthy and I try to be really focused on that. But every week I have a cheat day, so I would probably get an entire pizza or I would just get a basket of tater tots covered in nacho cheese sauce and just eat it with diet Pepsi. [Laughs]