2 Salsa Songs Inspired by Victor Cruz
December 26, 2013
vía
Mi Pepsi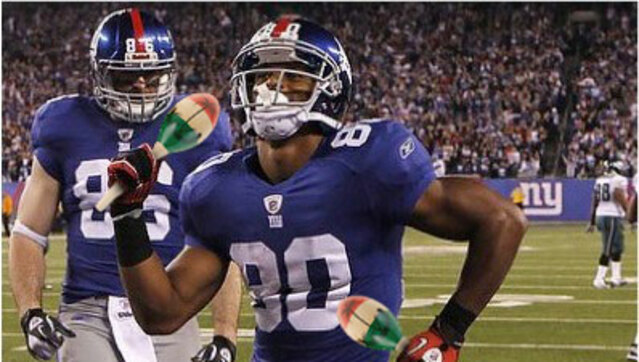 If you know Victor Cruz, you know about his famous abuelita-inspired endzone dance. What you may not know is that his touchdown hip-swinging has moved Latin musicians in New York to make their own musical tributes to their gridiron hero.
First up is Jimmy Sabater, Jr's ode, Baila Victor Cruz, a classic sounding salsa jam Sabater created to praise #80's on-field skill and over-the-top presence. The lyrics say it all: "Baila Victor Cruz / el gigante eres tu / sigue bailando así / por que la gente cree en tí." ("Dance, Victor Cruz / you're the giant / keep dancing the way you do / because the people believe in you.")
Rapper Ra Budda doubles down on the boricua pride for his song. Intended as a reggaeton theme song with salsa flavor, Ra Budda's track wouldn't be out of place in da club.
Two separate artists paid musical tribute to Victor Cruz and his dance. As different as they are – classic and new – both speak to how important it is to Latino fans to be represented on the team.
Now we want to hear more players get songs – where's the tejano track wishing Mark Sanchez well?