Artist of the Week: Schoolboy Q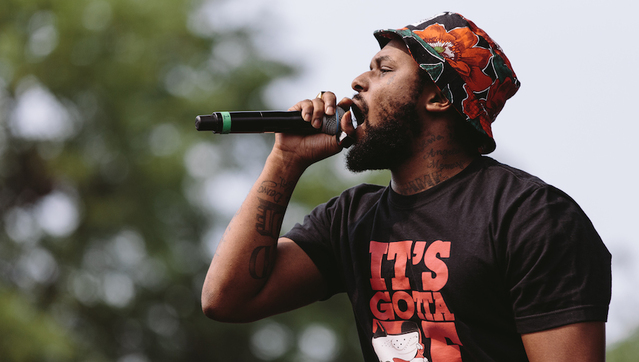 Schoolboy Q performing at Pitchfork Fest 2014. Photo by Trashhand.
"Bounce," might have been the most-used command during Schoolboy Q's epic performance at Pitchfork Fest this weekend. When he takes the stage, he's not there just to perform for the audience, he wants to party with them. It's that infectious energy that makes him so much fun to watch, and it's part of the reason no one in the music world can keep their eyes off him. As one of the signees to Top Dawg Entertainment aka T.D.E., Schoolboy has every reason to celebrate. He has played a major part in the West Coast revival for hip-hop fans. After Kendrick Lamar put out his musical opus entitled Good Kid M.A.A.D. City on the same label in 2012, he figuratively shipped the hip-hop throne back to California. With that album, Kendrick set high standards for the music industry, and for his label-mates as well. Schoolboy Q adeptly rose to the challenge.
When Schoolboy Q released his debut studio album Oxymoron, it debuted at No. 1. That was a feat not even Kendrick's album achieved. With massive singles like "Man of the Year," and "Collard Greens," Schoolboy undoubtedly solidified himself as a top tier rapper, gracing the cover of Billboard and taking off on a headlining tour. Besides his own clever, hard-hitting verses, he also linked up with former Pulse On Who's Next feature, Tinashe to contribute a verse to her banger "2 On." Never sleeping, he knocked out a verse for Wiz Khalifa's summer smash "We Dem Boyz." While it would be easy for SchoolBoy to sit back and bask in his success, he signed on for a world tour that is no joke: he's currently in the midst of a 75-show run. You'd expect someone halfway through that kind of challenge to be conserving energy. Rest assured, Schoolboy's got more juice than a generator. We were lucky enough to catch up with him and chat about TDE's legacy, his favorite Cali rappers, Hunger Games' Jennifer Lawrence, and how he feels after having a number one album. Get to know him below.
If you could give us your Top 5 California rappers of all time, who would you choose and why?
Top 5 Cali rappers of all time?! Snoop Dogg, of course. I would say E-40. I would say DJ Quik. Ice Cube. Tupac ain't from California though. He was representing the South until he moved on. But, you know what; yeah you can say he's Cali'. So yeah, Tupac.
Your group TDE is considered one of the top groups right now in hip-hop. Where do you think you rank among groups like G-Unit, Death Row, Roc-A-Fella?
Hopefully at the top. But, I mean, if we don't, then it's okay. We were successful and people loved it. As long as the people are still coming out to shows, that's all that matters. It lets you know that you're loved. If you can bring people out to the show, that means you're doing something good, you know?
Speaking of your shows, what can people expect when they get tickets to see Schoolboy?
I freestyle my shows. I don't have a real show. I just feed off the people, and they already know all the words. So, I can just play the songs and let them rap. The shows are more of a hangout than anything. There's no band, there's no crazy background, there's no dancey-dance, or fancy lights. I'm gonna shake hands and touch the people. It's a way to have fun instead of going to the movies or something. People need to have fun.
What does the success of your album Oxymoron feel like?
I'm not surprised. It's tight knowing I had a No. 1 album in the country and being the only person from California to do that since Game dropped his album. It was great for California to see that No. 1 in the country. For my name to be a part of that history – you know it was Snoop [Dogg], it was [Dr.] Dre, it was [The] Game, and then it was Q. I'm one of those dudes that had a No. 1 debut. That's kind of tight.
If you could pick any actor to play you in your biopic, who would you choose and why?
Ah, man. That's hard. Number one, they gotta be ugly. They gotta be fat. They gotta be short. You know, it's hard to pick somebody like me.
In a past interview, you've admitted to having a crush on actress Jennifer Lawrence from The Hunger Games. If you had the opportunity to take her out on a date, what would a date with her be like in the eyes of SchoolBoy Q?
On a date? Probably sit on my tour bus and chill. (Laughs) But seriously, I have to reserve my energy for shows. I'm set to do 75 shows, so I don't really go out as much. When I do go out, I like to have fun and be secluded. I like feeling like a regular guy. I don't like to be in that light anymore when I'm out. Basically you wanna chill sometimes, you know?
How do you keep performances fresh with so many dates?
It's more of an adrenaline rush every time I hit the stage. I can be tired as hell but when I walk on the stage and hear the people scream, they're expecting a good show. I don't like letting the kids down. I have a daughter. So it's like if I don't want to do anything, but she wants to go somewhere, she gives me a sad look. In a sense, it's kind of like that. No matter how tired I get, I have to do it for them. So I put my heart into it.
Related Articles
Artist of the Week: Lupe Fiasco
Kanye West Headlines The 2014 Bonnaroo Music and Arts Festival: Exclusive Photos