Pulse on Who's Next: Vince Staples | Interview
August 04, 2014
Qua
Pepsi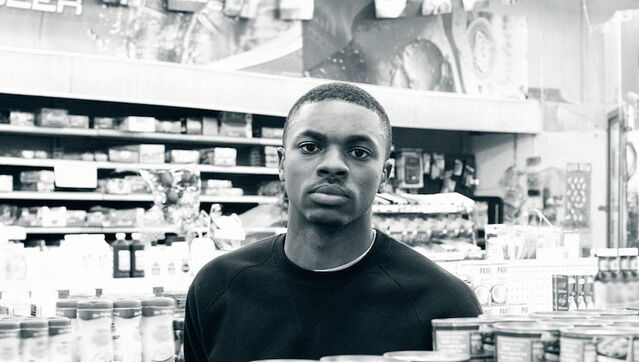 Vince Staples is a West Coast rapper who spent his childhood bouncing from Long Beach, to Compton to Lynwood. In 2011, he released his debut mixtape, Shyne Coldchain Vol. 1, and his second Winter In Prague a year later. The quality of the projects had hip-hop heads paying attention straight off the bat. Then in 2013, Staples teamed up with producer Larry Fisherman, (the pseudonym that Mac Miller produces under) and birthed one of the best mixtapes of the year, Stolen Youth. Following the release of the mixtape, Staples signed to Def Jam. He's toured with Mac Miller, Schoolboy Q and Isaiah Rashad, with his latest EP Shyne Coldchain Vol. 2 out now. We met up with Vince to talk about mixtapes, success, signing to a major label and much more. Check it out below!
For anyone out there who has yet to hear your music, how would you describe your sound?
My music is a reflection of my life and my little story, as everyone's should be. I don't try to narrow it down to one thing. Where a lot of people, artists and rappers especially, mess up is being narrow minded — feeling like they have to act a certain way, be a certain way and fit inside the box they're trying to fit in. I think that's stupid because there's only one you. If you market yourself and make your music yourself, it can't get old. Honestly, that's what I consider my music to be.
You recently dropped another mixtape, Shyne Coldchain Pt. 2, tell us about it?
I feel like I do a lot of collaboration projects—I have a tape with Mac Miller and I have a tape with Michael Uzowuru. But, this mixtape is like, 100 percent me. I picked all the beats and songs myself. It's an important project for me in terms of growth.
You were working with No I.D. on this project, right?
Yeah, I was working with No I.D. since he's on Def Jam and what not. He was a big part of that deal. He asked me if I wanted some beats and I said "Yeah," so he gave me some beats and we made some songs to the beats.
You make it sound so easy.
It was, we hadn't really got into that much. He was trying to give me some beats to work on and we got a lot of good stuff out of it.
Tell us about signing with Def Jam?
I mean, signing with Def Jam is cool. I feel like they really had the right situation and the right vision for what I wanted to do. So, it worked out perfectly. I had no problem joining and I don't see any in the future. It's the perfect place to be right now.
How did you first link up with Mac?
I linked up with Mac Miller because Earl went to his house to give him beats. I introduced myself, and he was like "Yeah I know who you are," and I was like, "That's cool." He asked me why I don't make more songs and I told him I didn't have any beats. He was like, "Alright, I'ma come over next week and make some beats." He hit me up, came over and we made the mixtapes in like, three or four days. We just cleaned it up over the next couple of weeks when we had time. Mac is my bro. That's one of my good, good friends.
When was the last time you danced until you sweat?
Never, I don't dance. I get two or three seconds of a Keith Sweat choreography in my head. I'm with it, express yourself! I just can't see myself doing it.
When's the last time you stayed up all night?
Yesterday, I stayed up just hanging out. I'm not a big sleeper. I'm on tour right now so I get more sleep because I'm tired after shows. But, when I was younger and we had bedtimes, I used to get in trouble all the time for staying up until 10 at night.
When was the last time you told somebody that you loved them?
I tell my mom I love her everyday. I tell my friends I love them because that's just what it is, I've never been scared to say that.
When's the last time you were scared out of your mind?
Very recently. We have crazy skunk problems where I live. I was taking out the trash and I opened the gate, threw the trash away and I turned around and there were two skunks staring at me. I tried to walk away, one of them looked at me like, "Don't move." I just stood behind the gate by the trashcan until they felt like they had something else to do. You could tell they were plotting on me — I don't like animals that are smaller than me but not scared of me.
When was the last time you laughed so hard that something came out of your nose?
I don't think that's ever happened to me. I do laugh to the point where I have asthma attacks though.
Oh, really? When was the last time that happened? That's not as funny though…
It's hilarious because I can't stop laughing. My friend Dale is the craziest person I've met in my life, I laugh at everything he does. I almost had an asthma attack because we were talking about sports and he just throws shots at people. It's hilarious. Shout out, Dale!
Related Articles:
Rappers We'd Love to See on the Big Screen